18 Aug

Calming the Emotional Storm: Essential Dialectical Behaviour Therapy Skills for Emotionally Dysregulated Clients

0% Complete

0/6 Steps

In this engaging seminar recording, Sheri Van Dijk, (MSW, RSW) will guide you through a set of techniques you will be able to use with your clients to help them cope with difficult emotions calmly and responsibly by using powerful skills from Dialectical Behaviour Therapy (DBT). By teaching your clients these skills, you can help them stop needless emotional suffering and develop the inner resilience that will help them to weather any emotional storm and respond to a stressful situation with calm.  The DBT approach offers suggestions on how to help clients to activate areas of their brain that have been under activated and how to quiet down those areas that have been over activated so that clients can enjoy life without being plagued by difficult emotions.  In DBT, distress tolerance is promoted with parasympathetic activation and clients are asked to experience emotions like waves and ride through them.
You will learn how to help your clients:
Establish a balanced life for an everyday sense of well-being
Let go of unwanted worries and fears
Become better at accepting yourself and others
Work through a crisis without letting emotions take over
Emotion Dysregulation is typically a component of mood and anxiety disorders, addictions, eating disorders, and BPD and other personality disorders; and can also appear in individuals without a specific diagnosis, but who are struggling with difficulties such as anger management problems, low self-esteem or shame, and complicated grief. This workshop will provide clinicians with real-life day-to-day tools you will be able to teach to clients struggling with mental health issues and other emotional and relational problems.  You will be able to help your clients find order and peace in their lives again, and to make changes that are long-lasting!
DBT is a treatment originally designed to treat clients with BPD, but is increasingly being used to help clients with general problems in regulating emotions. Whether related to a mental illness or addiction, or simply to difficulties managing emotions, this inability to regulate oneself can lead to problems with anger, shame, relationships, and low self-esteem, resulting in chaos and misery.
In this one-day seminar recording, which you can watch in the intervals and at your convenience, you will delve deeply into some of the DBT skills, broadening your understanding of and ability to teach some of the most important skills to help clients manage emotions
You will learn how you can assist your clients to integrate their current coping skills with new and effective DBT skills and techniques for living well with mood and anxiety disorders, eating disorders, and addictions, as well as with other problems such as managing anger, chronic shame, low self-esteem, and grief.
These DBT skills will help your clients manage the emotional ups and downs and minimize the frequency and intensity of depressive and manic episodes or panic attacks. By using these techniques in conjunction with medication and professional care, your clients will soon experience relief from symptoms and come to enjoy the calm and confident feeling of being more in control.
Teach your clients mindfulness and acceptance skills to help reduce intense emotions
Help your clients reduce problematic behaviours and cope with emotions in healthier ways
Equip your client with tools to manage intense emotions and impulsive urges
Teach skills to help clients create and maintain healthy, satisfying relationships with friends and family members
Help clients more effectively manage their own health and state of mind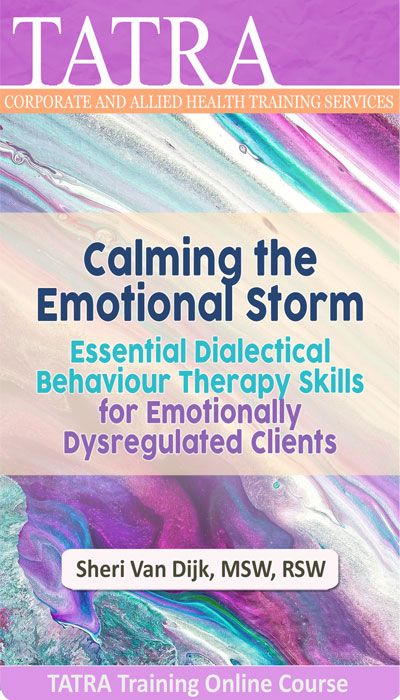 Learn the DBT theory of how problems managing emotions develop, and how to help your clients be more accepting of their difficulties
Practice applying behavioural theory concepts to clinical situations
Learn about neuroplasticity and how this concept can be used in treatment to move clients in healthier directions
Examine the connection between neuroplasticity and DBT skills, and learn how practicing DBT skills helps to create lasting changes in the brain that help to regulate emotions more effectively
Practice some of the core DBT skills – such as radical acceptance, nonjudgmental stance, opposite to emotion action, and self-validation – and learn more about how to teach these skills to clients in the context of their specific emotional and behavioural difficulties
Learn how the DBT skills help us to live healthier, more balanced lives and reduce the feelings of ineffectiveness and burnout we often experience as clinicians
Consider some of the benefits and pitfalls to doing DBT in individual therapy
Discuss what to do when interventions don't seem to be moving clients forward, with a focus on skills training, behaviour theory, and dialectical strategies
Delve further into treatment planning from a DBT perspective, and learn how to decide which DBT interventions will best suit clients' needs
Build confidence in providing DBT-informed therapy in your practice


This online workshop will give you instant access to 8 hours of video content, accessible via streaming on our website, as well as downloads for supplemental materials. You can view the course content in your own time, there is no time limit on access.
Please click the green 'Mark Complete' button on each module as you progress.
A certificate of completion will be generated upon finishing the course and completing a short assessment quiz. If the certificate is not showing, please confirm you have marked all sections as 'Complete'. Please consult your professional organisation/association to confirm whether you are able to claim any CPD points/hours for this online workshop.