17 Sep

Practice-Based Intensive Dialectical Behavioural Therapy Training

Posted at 15:42h

in Uncategorised

0% Complete

0/9 Steps

This workshop will teach you DBT from theory to application with up-to-date, accessible teaching and experiential exercises that emphasise evidence-based practice and therapeutic factors rather than rote adherence to a manual. Practitioners of all levels will learn DBT essentials to integrate into their own practice, to confidently practice from a DBT orientation, and to continue their own personal development as a DBT therapist.
This seminar recording covers the content of a two-day workshop.  It provides an emphasis on developing a detailed understanding and a foundation of the skills of Dialectical Behavioural Therapy (DBT) when working with a variety of difficult to treat client problems.  Grounding DBT into the contextual model of therapy, author and international speaker Dr. Lane Pederson will show you how to customise this empirically supported treatment across settings and populations to make it work for you and your clients.
DBT is an empirically validated approach designed to empower clients to establish mindfulness, distress tolerance, emotional regulation, and interpersonal effectiveness.  DBT assists clinicians in treating challenging clients with suicidal issues, self-harm potential and dramatic interpersonal styles.
This seminar explores the DBT theoretical basis, specific DBT interventions and how to work effectively with challenging clients.  Familiarity with these techniques will enhance your clinical skills and professional development.
Make this complex model work for a variety of clients
Build a foundation of DBT competency
Learn the process and content of this evidence-based practice
Take home many client resources and worksheets
Integrate these skills into individual and group therapy
Utilize case studies as a guide for effective application of skills in clinical situations
Presenter: Lane Pederson, PhD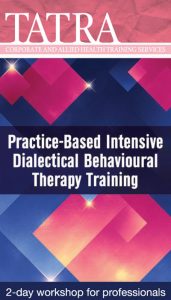 You will learn how to:
Utilize DBT in your clinical practice.
Use DBT flexibly, creatively and effectively
Increase your DBT toolkit with expanded skills
Apply DBT to many clinical presentations, age groups and diversity
Practice streamlined chain analysis protocols

Lane Pederson, Ph.D., is the author of "The Expanded Dialectical Behaviour Therapy Skills Manual: Practical DBT for Self Help, and Individual & Group Settings" and "Dialectical Behaviour Therapy Skills Training in Integrated Dual Disorder Treatment Setting". He is the founder of Dialectical Behaviour Therapy National Certification and Accreditation Association (DBTNCAA), the first active organisation to certify DBT therapists and accredit DBT programs. He has extensive experience developing DBT programs and is an in-demand international speaker and consultant.
Dr. Pederson is an outspoken advocate of evidence-based practice and "doing what works" with clients across diverse settings and levels of care. An in-demand international speaker, Dr. Pederson has trained over 7000 professionals in both public and private settings in over 30 States and across Australia. He also owns Mental Health Systems, PC, one of the largest DBT-specialized practices in the Midwest United States, with three clinic locations. At MHS, he has overseen the treatment of thousands of clients with complex co-morbidities.
Having coined and representing the "second wave of DBT", Dr. Pederson illuminates the research that empowers movement away from blind DBT adherence toward customized applications centered on the therapeutic alliance and grounded in evidence-based practices. Knowledgeable and humorous, Dr. Pederson is highly rated by audiences for his ability to make treatment concepts practical to therapists.

This online workshop will give you instant access to 7.5 hours of video content, accessible via streaming on our website. You can view the course content in your own time and re-watch as many times as you like.
A certificate of completion will be generated upon finishing the course and completing a short evaluation quiz. Please consult your professional organisation/association to confirm whether you are able to claim any CPD points/hours for this online workshop.