14 Sep

Overcoming Worry and Anxiety in Chaos and Uncertainty

Overcoming Worry and Anxiety in Chaos and Uncertainty is a new online seminar designed to provide you with new ideas to train the brain, calm the stress cycle and help your client create happier and more productive life.  Based on current neuroscience, the brain-change exercises demonstrated in this recording will assist your clients in taking control over their anxious minds.  Watch and discover techniques that will assist your clients to dissolve their worry and stay in their best internal states (such as flow) for longer periods of time.
In this seminar you will learn how to:
quickly shift away from a constant state of worry
shift the internal states to change biology
recondition the mind to a new state of being
unleash the brain's super-abilities in minutes
utilize the brain chemistry to tap into natural bliss
trigger the resilient self
We live in a time of extremes.  Pandemics, volatility, uncertainty, climate change, and the instability of political and social institutions have strained a sense of normality and security.  Mental health clinicians need advanced and practical tools based in the latest neuroscience, regenerative psychology, and generative processes that work quickly to help restore inner stability and vitality and move into resilience and thriving.
This seminar focuses on a transformative approach for thriving in the chaotic conditions of 21st century life.  It will present the psychotherapeutic approach that focuses on the amazing abilities humans have that are often hidden to them; the approach that moves client outcomes to a new level.
Science now knows how to help people shift the inner place from which they operate and up level human biology for transformation rather than just resolving conflicts.  Managing neurochemistry to stay in positive moods, tell the self -stories of possibility, alter states, and make the impossible possible is the focus.  The challenge of disruption is that it can allow us to move to a higher level of functioning with new awareness.
This seminar recording is based on the presenters' newest book "the Worry-Free Mind" and it will delight you with wisdom, insight and tips for helping your clients in speedy recovery from worry, anxiety and stress.  You will learn from the authors about:
deep state dive to dissolve worry and rumination
training the mind to change the emotional channels
the neuro-wellness rituals to break through crises
the whole brain state and banishing worry for good
flowing into the "super mind", and much more!
Learning Objectives:
Discuss science-based strategies to overcome worry and anxiety.
Describe the RESET model for the psychotherapy of lasting change.
Identify the specific brain waves associated with resilience.
Analyze client emotional resources to be used in healing.
Discuss regenerative psychology, mindset, and the process for transformation.
Explain how resilience is acquired.
Describe how to future pace the best future self and why this is useful in promoting positive change.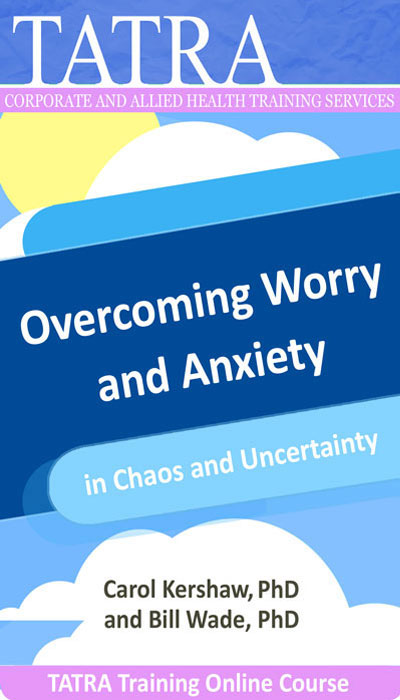 Carol Kershaw, Ph.D. is Co-Director of the Milton H. Erickson Institute of Houston. She is an international trainer, author and psychotherapist running her private practice in Houston, Texas, USA. She is a member of the American Psychological Association, and an Approved Consultant for the American Society of Clinical Hypnosis.
She is board certified with the status of Fellow in EEG Biofeedback and the author of The Couple's Hypnotic Dance and co-author of Brain Change Therapy: Clinical Interventions for Self- Transformation published by WW Norton and The Worry-Free Mind published by Career Press. She has been invited to speak for NASA, and she also presented in Saudi Arabia, Chile, Mexico, Spain, Canada, Italy as well as in the United States and in Australia   
Dr Bill Wade is Co-Director of the Milton H. Erickson Institute of Houston, and is accredited as both a marriage and family therapist and professional counsellor, holding supervisory status with both capacities.
He is a Clinical Fellow with the American Association for Marriage and Family Therapy and is a member and Approved Consultant with the American Society of Clinical Hypnosis. Dr Wade is co-author of Brain Change Therapy: Clinical Interventions for Self-Transformation, published by WW Norton and The Worry-Free Mind, published by Career Press.
He is a long-time student of meditation and has taught at several Buddhist temples. He has presented workshops in Spain, Italy, and across the United States. He has been utilizing psychotherapy and clinical hypnosis for over 35 years.

This online workshop will give you instant access to 6 hours of video content, accessible via streaming on our website, as well as downloads for supplemental materials. You can view the course content in your own time, there is no time limit on access.
A certificate of completion will be generated upon finishing the course and completing a short evaluation quiz. Please consult your professional organisation/association to confirm whether you are able to claim any CPD points/hours for this online workshop.