02 Jul

Foundations and Applications of Solution-Focused Brief Therapy

Increase Your clinical effectiveness!
Reach positive client outcomes faster!
Teach your clients how to focus on solutions!
Learn how to apply SFBT with specific client populations.
Apply SFBT in Trauma-informed care.
Solution-Focused Brief Therapy (SFBT) is a short-term goal-focused evidence-based therapeutic approach, which incorporates positive psychology principles and practices, and which helps clients change by constructing solutions rather than focusing on problems. In the most basic sense, SFBT is a hope friendly, positive emotion eliciting, future-oriented vehicle for formulating, motivating, achieving, and sustaining desired behavioural change.
As the name suggests, SFBT is future-focused, goal-directed, and focuses on solutions, rather than on the problems that brought clients to seek therapy.
SFBT is an evidenced-based psychotherapy approach. There have been close to 150 randomized clinical control studies and eight meta-analyses with different control populations in different clinical settings in multiple countries, almost all showing positive benefits of SFBT.  Positive outcomes are evident for child, adolescent, and adult populations presenting with problems such as depression, stress, anxiety, behavioural problems, parenting, and psychosocial and interpersonal problems (Kim et al, 2010; 2019).
Solution-Focused practitioners develop solutions by first generating a detailed description of how the client's life will be different when the problem is gone or their situation improved to a degree satisfactory to the client. Therapist and client then carefully search through the client's life experience and behavioural repertoire to discover the necessary resources needed to co-construct a practical and sustainable solution that the client can readily implement.
Typically this process involves identifying and exploring previous "exceptions," e.g. times when the client has successfully coped with or addressed previous difficulties and challenges. In an inherently respectful and practical interview process, SF therapists and their clients consistently collaborate in identifying goals reflective of clients' best hopes and developing satisfying solutions.
SFBT has not only become one of the leading schools of brief therapy, it has become a major influence in such diverse fields as business, social policy, education, and criminal justice services, child welfare, domestic violence offenders treatment. Described as a practical, goal-driven model, a hallmark of SFBT is its emphasis on clear, concise, realistic goal negotiations.
This workshop will focus on:
Key Concepts and Tools
Goal development questions
Pre-Session Change Question
Looking for previous solutions
Looking for exceptions
Present and future-focused questions vs. past-oriented focus
Validating client's efforts and achievements
Inviting the clients to do more of what is working
Miracle Question and Scaling Questions
Coping Questions
Practical applications of SFBT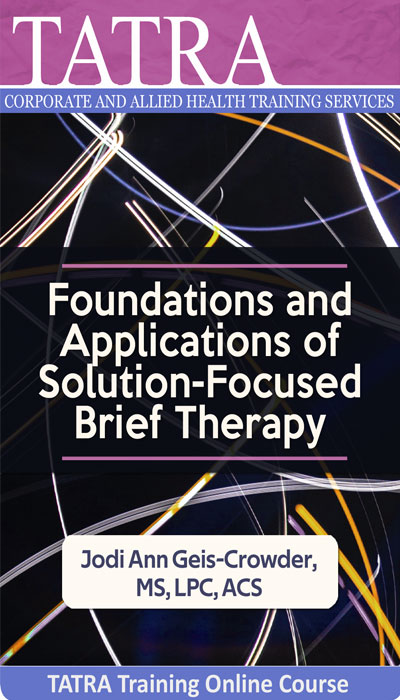 a). Describe the brief history of Solution Focused Brief Therapy (SFBT).
b). Name at least two factors that influenced the pioneers of SFBT.
c). State the difference between problem solving and solution building.
d). Define a client in SFBT.
e). Name the eight principles of SFBT.
f). Identify at least two interventions and questions in SFBT.
g). Describe the three-part SFBT skeleton.
h). Identify which interventions and questions fit in the three parts of the skeleton.
i). Learn and practice the nuances of language needed to effectively use SFBT.
j). Explain how to apply SFBT with specific populations and modalities, such as families, marital, adolescents and group therapy.
k). Describe SFBT and Trauma informed care (SF-TIC).
l). Name and describe "The trifecta."
Target Audience:
Professional counsellors, professional social workers, professional school counsellors, licensed marriage and family therapists, psychologists, professional case managers and medical staff.


This online workshop will give you instant access to 4 sessions of video content, accessible via streaming on our website, as well as downloadable PowerPoint slides (PDF). You can view the course content in your own time, there is no time limit on access.
 The duration of this course is 5 learning hours.
Please click the green 'Mark Complete' button on each module as you progress. A certificate of completion will be generated upon finishing the course and completing a short assessment quiz. If the certificate is not showing, please confirm you have marked all sections as 'Complete'. Please consult your professional organisation/association to confirm whether you are able to claim any CPD points/hours for this online workshop.