24 Oct

Strategies for Eliciting Motivation in the Unmotivated

0% Complete

0/7 Steps

This training reviews dozens of motivational strategies and techniques that can be used with clients who struggle with motivation due to various problems such side effects of medications, short attention span, symptoms of mental illness, or who suffer from learning difficulties or ADHD. It provides a basic formula that can be adapted to any individual and situation.
Dr. Nowell, a neuropsychologist, applies the best of recent brain science understanding of how motivation actually works for us, and for our clients, "from the inside out." Attendees will learn a specific clinical strategy (the "Behavioural Inquiry") for eliciting clients' specific intrinsic motivators.
The seminar includes an overview of the brain science supporting non-pharmacological treatment interventions targeting focus, distractibility, and behavioural management. Dr. Nowell will review the neuro-anatomical basis of reward and motivation as well as the executive functions of choosing, planning, inhibiting, and prioritizing. After a review of the normal developmental trajectory of executive functions, he will consider the impact of those disorders which impede attention and organization.
This workshop is for you if you are
a psychologist
a social worker
a mental health worker
a speech and language pathologist
a teacher or education paraprofessional
a health care professional
an occupational therapist
a mental health or behavioural health professional
an employer—or an employee
a parent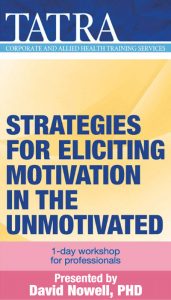 Apply an understanding of the human brain and motivational and reward system to their clinical work.
Conceptualize behavioural challenges as skills deficits or problems with contingency management
Apply a nonjudgmental and deeply curious approach to interview and counselling techniques
Elicit client specific motivators and treatment goals
Summarize the key features of motivational interviewing and stages of change.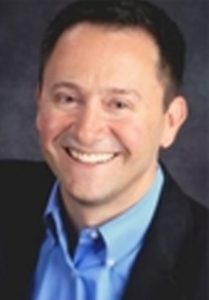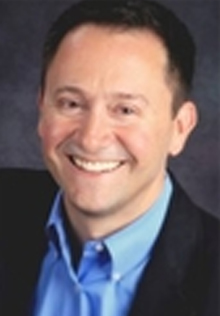 Dr. Nowell is a clinical neuropsychologist in private practice in Massachusetts (USA). One of his passions is the translation of neuropsychological and brain research to functional and understandable terms which clients, families and practitioners can quickly put to use to solve real problems. His research interests include the impact of traumatic brain injury on social and occupational functioning. He has served as clinical director of the Learning Disability Assessment program at UMass Medical School Disability Evaluation Service.
David speaks internationally and trains professionals in human services organisations, hospital staff and welfare agencies. A member of the American Psychological Association and the Massachusetts Neuropsychological Association, he earned his doctorate at the University of Alabama and completed an internship program in neuropsychology at Tulane University Medical Centre in New Orleans, Louisiana.

This online workshop will give you instant access to 5 hours of video content, accessible via streaming on our website, as well as downloadable PowerPoint slides, references and additional worksheets/materials to use with your clients. You can view the course content in your own time, there is no time limit on access.
A certificate of completion will be generated upon finishing the course and completing a short evaluation quiz. Please consult your professional organisation/association to confirm whether you are able to claim any CPD points/hours for this online workshop.