07 Apr

The Happiness Toolbox: Brain-Based Skills for Lasting Well-Being and Happiness

0% Complete

0/4 Steps

At our core, we all wish to be happy. Most of our major life decisions – where we live, who we marry, how we work – are made with the goal of happiness in mind. Yet for many of us, happiness can feel harder and harder to come by these days. Depression, anxiety, and stress run rampant – taking an enormous toll on us as individuals, families, workplaces, and society. But exciting changes have started to take place, with tremendous implications for changing our lives. Over the past decade, 2 emerging fields – positive psychology and neuroscience – have begun to offer us hope for lasting change. This workshop synthesizes these approaches in a practical, easy-to-use manner.
Join positive psychologist and author Jonah Paquette, Psy.D. for an exciting experiential workshop focused on the science of well-being and the ingredients of a meaningful life. Weaving modern advances in neuroscience with strategies for lasting well-being, this workshop will provide you with the necessary skills to transform your clinical work. Learn how practices like gratitude, compassion, mindfulness, self-compassion, awe, and more – can create lasting changes to our level of well-being and even improve our physical health. Even more, learn how these approaches can, over time, create lasting changes in our brain thanks to the power of neuroplasticity. In doing so, we can combat stress, reduce burnout, improve our relationships and job performance, and foster greater physical and emotional health. Through hands-on practice, didactic presentation, and time for reflection, you'll learn how to expertly apply these skills into your life and your work. By attending this program, you'll be equipped to implement these approaches into your clinical practice, starting immediately.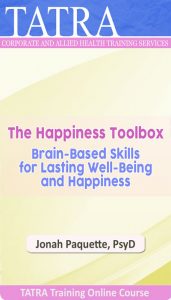 Articulate the benefits of happiness to our physical health, emotional well-being, relationships, and job performance
Explain and apply the concept of the negativity bias, as it pertains to clients struggling with depression or anxiety
Administer specific practices to cultivate gratitude, compassion, self-compassion, and connection – and understand how to integrate these practices effectively into treatment
Explore specific areas of the brain linked to positive emotional states, and learn techniques to increase neuronal firing to these regions in order to create lasting change through the process of positive neuroplasticity
Practice specific techniques to regulate the central nervous system and stimulate the vagus nerve, to help promote feelings of calm, safety, and peace
Explain how awe and wonder impact our brain and nervous system, and how these experiences enhance our psychological and physical health.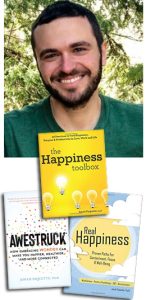 Jonah Paquette, PsyD, is a clinical psychologist, international speaker, and author. He is the author of Real Happiness (PESI Publishing, 2015), a self-help book in which he distills the key findings in the field of happiness research, and offers user-friendly tools to achieve lasting well-being. His second book, The Happiness Toolbox (PESI Publishing, 2018), a research-based self-help workbook, provides easy-to-use handouts and worksheets designed to increase happiness and life satisfaction. His forthcoming book, Awestruck (Shambhala Publications, 2020), will explore the science of awe, and how moments of wonder benefit our physical and emotional health.
Dr. Paquette is a psychologist at Kaiser Permanente in the San Francisco Bay Area, where he serves as the Assistant Regional Director of Mental Health Training. Spanning 20 medical centers and consisting of nearly 200 mental health trainees, it is the largest non-governmental training program in the United States. In addition to his clinical work and writing, Dr. Paquette offers training and consultation to therapists and organizations on the promotion of happiness and conducts professional workshops around the country and internationally. He is also a frequent media contributor, having been featured regularly in print, online, and radio outlets. Dr. Paquette's clinical experiences have spanned a broad range of settings, including Veterans hospitals, community mental health clinics, college counseling centers, and his current work at Kaiser Permanente. For more information about Jonah and his work, please visit www.jonahpaquette.com.

This online workshop will give you instant access to 6 hours of video content, accessible via streaming on our website, as well as downloads for supplemental materials. You can view the course content in your own time, there is no time limit on access.
A certificate of completion will be generated upon finishing the course and completing a short evaluation quiz. Please consult your professional organisation/association to confirm whether you are able to claim any CPD points/hours for this online workshop.