26 Oct

Addictions and Attachment: Connection as a Path to Healing

To heal addiction, you have to go back to the start…
Explore the link between trauma, attachment, and addictions.
From gambling, sex addiction, alcohol or drug addiction to healing attachment patterns.
Discover healthy and safe ways towards the recovery.
Explore shame and the shame cycle.
Co-morbid mental health concerns.
Methods for assessment.
Addictions and trauma expert, author and clinician Robert Cox takes a holistic and compassionate approach to addiction, whether to alcohol, drugs, sex, money or anything self-destructive. He presents addiction not as a discrete phenomenon confined to some individuals only, but as a continuum that runs through (and even underpins) our society. He does not see addiction as a  medical "condition" but rather the result of a complex interplay of personal history and a rupture in the attachment, emotional development and brain chemistry.
  
Distilling cutting-edge research from around the world, Robert Cox avoids glib self-help remedies, instead promoting self-understanding as the first key to healing and wellness. Blending personal stories and science with positive solutions, it is a must-see course that will change how you approach treating addiction in your clients.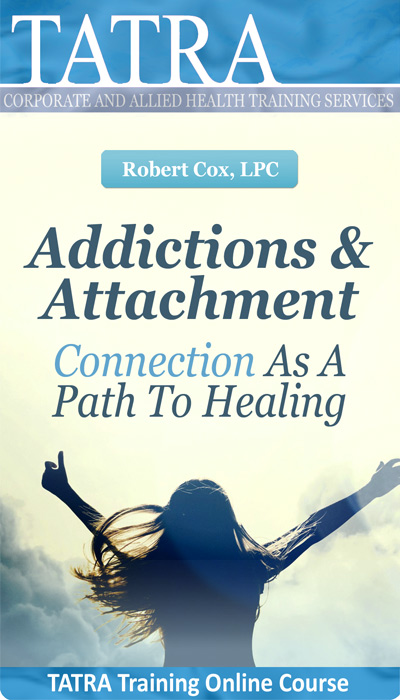 Identify regions of the brain affected by trauma and addictions.
Practice assessing levels of addiction and co-morbidities.
Determine treatment modalities accordingly.
Identify the role that attachment plays in healing.
Explore the benefits of various therapeutic approaches, including therapy groups, as the centres for healing.
Describe how shame and the shame cycle play a part in addiction and relapse cycles.
Target Audience:
The target audience for this event includes addictions specialists, psychologists, clinical social workers, counsellors, and other clinical mental health professionals.


This online workshop will give you instant access to 4 sessions of video content, accessible via streaming on our website, as well as downloadable PowerPoint slides (PDF). You can view the course content in your own time, there is no time limit on access.
The duration of this course is 4.5 learning hours.
Please click the green 'Mark Complete' button on each module as you progress. A certificate of completion will be generated upon finishing the course and completing a short assessment quiz. If the certificate is not showing, please confirm you have marked all sections as 'Complete'. Please consult your professional organisation/association to confirm whether you are able to claim any CPD points/hours for this online workshop.