20 Oct

Self Compassion in Psychotherapy: Beyond Mindfulness

Enrich your practice with the Self-Compassion modality
Apply Self-Compassion to treat depression, anxiety and trauma
Improve your own mental health
Prevent burnout and vicarious trauma
Learn like in Harvard!
If you've incorporated mindfulness into your psychotherapy practice, it might be time that you look beyond it and transition into the practice of self-compassion.   Researchers now understand that self-compassion is a skill that can be strengthened through deliberate practice, and that it is one of the strongest predictors of mental health and wellness. The brain's compassion centre, which neuroscientists call the Care Circuit, can be targeted and fortified using specific techniques.
This new online course is a guide for mental health practitioners on how to integrate cutting-edge neuroscience with mindfulness and traditional Buddhist practices in order to help clients develop a more loving, kind and forgiving attitude towards themselves.
Filled with convenient and practical short exercises, Self-Compassion in Psychotherapy: Beyond Mindfulness demonstrates how to apply self-compassion practices to treat depression, anxiety, trauma, addiction, relationship problems and self-sabotage, preventing burnout and stress.
You do not need to have any background in mindfulness in order to benefit from this new online course presented by Dr Christopher Willard, a tenued professor from Harvard Medical School.
You will find that self-compassion practices have the capacity to add new layers of depth to mindfulness-based therapies such as Dialectical Behaviour Therapy (DBT), Acceptance and Commitment Therapy (ACT), Mindfulness-Based Stress Reduction (MBSR) and Mindfulness-Based Cognitive Therapy (MBCT).
This highly experiential course will leave you energized and empowered with new tools and interventions.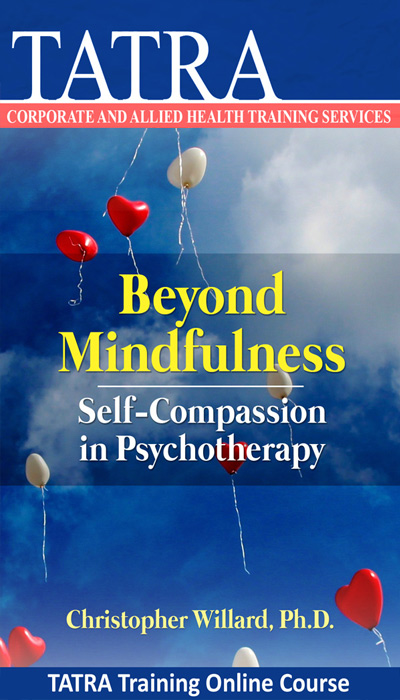 Identify the dimensions of self-compassion.
Summarize the interpersonal neurobiology of self-compassion and compassion practices and their effects on depression, anxiety, and stress.
Use self-compassion and compassion practices to minimize compassion fatigue/burnout/secondary trauma in practitioners and other caregivers.
Teach self-compassion strategies to others, safely minimizing risks of dissociation and decompensation in traumatized individuals.
Design treatment plans that incorporate mindfulness and self-compassion skills.
Communicate how understanding neurological processes can help professionals improve clinical outcomes.
Integrate self-compassion, compassion, and mindful awareness practices with other treatment protocols.
Facilitate others cultivating self-compassion/compassion practices to increase attention, concentration, executive functioning, and resilience.
Acquire practices and interventions that decrease shame, self-criticism, and increase self-kindness instead.
Explain the difference between self-compassion and self-esteem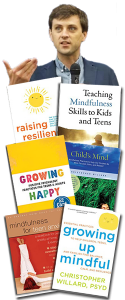 Dr. Christopher Willard is a tenued professor at Harvard Medical School. He is a psychologist and educational consultant based in Boston specializing in mindfulness. He is the author of Child's Mind (2010), Growing Up Mindful (2016), Raising Resilience (2017) and eight other books for parents, professionals and children, along with six sets of cards and therapeutic games, available in more than ten languages.
He has been practicing meditation for 20 years, and has led hundreds of workshops around the world in more than two dozen countries. He currently serves on the board of directors at the Institute for Meditation and Psychotherapy, and is the president of the Mindfulness in Education Network. He has presented at TEDx conferences and his thoughts have appeared in the New York Times, The Washington Post, mindful.org, and elsewhere.
He's known for a modern and practical approach to teaching mindfulness and self-compassion to both his students and other audiences.

This online workshop will give you instant access to 14 sessions of video content, accessible via streaming on our website, as well as downloadable PowerPoint slides (PDF). You can view the course content in your own time, there is no time limit on access.
The duration of this course is 4.5 learning hours.
Please click the green 'Mark Complete' button on each module as you progress. A certificate of completion will be generated upon finishing the course and completing a short assessment quiz. If the certificate is not showing, please confirm you have marked all sections as 'Complete'. Please consult your professional organisation/association to confirm whether you are able to claim any CPD points/hours for this online workshop.