02 Sep

Brain-Based Trauma Treatment

Bonus Offer: Purchase this course and receive a free bonus: Neuroscience for Clinicians (6 hour online course)

Bonus course will be automatically added to your account. Offer expires 25 November 2022.

Neuroscience research is providing insight into why, when, and with whom specific psychotherapeutic approaches may be beneficial. However, translating neuroscience research into practice can be a daunting task.
This seminar outlines for attendees some key areas involved in trauma, and provides examples of psychotherapeutic techniques that have been shown to alter those areas of the brain in the direction of health and recovery. You will leave this seminar feeling confident about how to take a brain-based approach to trauma treatment, equipped with therapeutic tools and techniques you can start using tomorrow!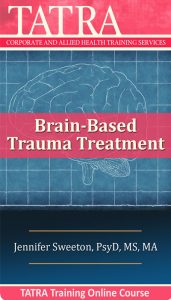 Name five areas of the brain commonly implicated in trauma.
Describe three ways to change the brain.
Provide two examples of bottom-up brain-changing techniques and state how they alter brain activations.
Provide two examples of top-down brain-changing techniques and state how they alter brain activations.
Briefly describe the "Trauma Treatment Roadmap" and why the "order of operations" of trauma treatment is important.
Instructional Level: Intermediate

Dr. Jennifer Sweeton is a licensed clinical psychologist, best-selling author, and internationally-recognized expert on anxiety and trauma, women's issues, and the neuroscience of mental health. She is the author of the book, Trauma Treatment Toolbox, published by PESI Publishing & Media. Dr. Sweeton completed her doctoral training at the Stanford University School of Medicine, the Pacific Graduate School of Psychology, and the National Center for PTSD. Additionally, she holds a master's degree in affective neuroscience from Stanford University, and studied behavioral genetics at Harvard University.
Dr. Sweeton resides in the greater Kansas City area, where she owns a group private practice, Kansas City Mental Health Associates, and co-owns Mind Works Professional Education, Inc., a continuing education company. She formerly served as the President of the Oklahoma Psychological Association, and holds adjunct faculty appointments at the University of Kansas School of Medicine and the University of Oklahoma Health Sciences Center. She is the current President of the Greater Kansas City Psychological Association. Dr. Sweeton offers psychological services services to clients in Oklahoma, Kansas, and internationally, and is a sought-after trauma and neuroscience expert who has trained more than 10,000 mental health professionals in her workshops. Other highlights of her career include:
Rhodes Scholar National Semi-Finalist
American Psychological Association Early Career Achievement Award
Oklahoma's Top 40 Under 40 Professionals
Stanford University Center for International Conflict and Negotiation Fellowship
Mensa Member Award Program Recipient
National Science Foundation Graduate Research Fellowship
U.S. Department of Homeland Security Graduate Fellowship
NASA Ames human factors researcher
Recipient of over 30 additional paid awards and grants

This online workshop will give you instant access to 5 hours of video content, accessible via streaming on our website. You can view the course content in your own time, there is no time limit on access.
A certificate of completion will be generated upon finishing the course and completing a short evaluation quiz. Please consult your professional organisation/association to confirm whether you are able to claim any CPD points/hours for this online workshop.