23 Oct

Complex And Resistant Depression: The Best Evidence-Based Techniques For Assessment And Enhancing Treatment Outcomes

Depression is severe when appearing alone, however, there may be a synergistic or cumulative effect when depression is co-morbid with medical problems, anxiety, personality disorders, family or relationship conflict, or with generalised life stress. This workshop focuses on the assessment and treatment of depression as it frequently appears, co-occurring with various other disorders.
Case conceptualisation and treatment planning for clients with the more typical and uncomplicated diagnoses of depression and anxiety are relatively uncomplicated. In fact, some authorities believe that they are likely to get well regardless of the therapeutic manoeuvres employed or the therapist. These clients respond well to medication, self-help and traditional Cognitive Behavioural strategies.
However, an increasing proportion of clients have more complex problems that so interfere with their functioning that they pose significant therapeutic challenges and can be difficult to help. They often require more time in therapy, require more energy and time from the therapist may have great difficulty making progress in treatment, or make no progress at all. Their progress may be blocked by low levels of motivation or limited coping resources. These clients may come to therapy at the request or demand of others, and they see their problems to be externally caused and outside of their control or responsibility. Such clients will have diagnoses that include all the personality disorders, dual diagnoses, schizophrenia, bipolar disorder, and refractory depression and anxiety.
Specific workshop goals include how to select targets for treatment, and achievable goals for therapy. This workshop will provide you with tools that can be immediately useful, practice with various techniques and targets for immediate action.  Techniques will be selected from those available with the greatest treatment impact, the combination of psychotherapy, physical health care and pharmacotherapy while evaluating the progress and outcome of treatment.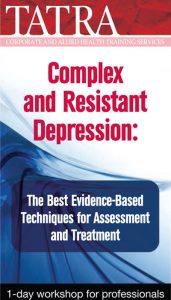 •  Understand how the Neurobiology and genetics of depression may drive treatment choices.
•  Differentiate between various types of depression.
•  Understand the DSM5 changes and its Implications for Treatment.
•  Define Treatment Resistant Depression and Chronic Depression
•  Learn how to apply CBT, DBT and ACT strategies and techniques for treating chronic and resistant depression.
•  Use the Freeman/Clevenger Diagnostic Profiling System (FDPS) to select targets for treatment.
•  Identify the vegetative, cognitive, motivational, nutritional and situational aspects of depression.
•  Describe the various problems encountered in treating depression that appear refractory to treatment.
•  Describe the rationale for combined psychotherapy and pharmacotherapy.
•  Evaluate the progress and outcome of treatment.
•  Learn about current relapse prevention approaches for chronic and resistant depression.
•  Identify techniques that are effective in motivating chronically depressed clients who tend to not comply with treatment.
•  Master your approach to Relapse Prevention.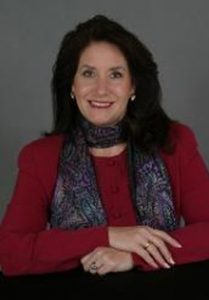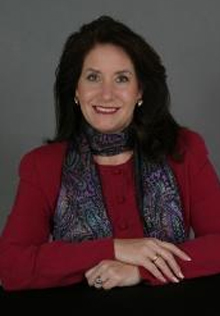 Sharon Freeman Clevenger (MSN, PMHMSN-BC, CARN-AP) is the Founder and CEO of the Indiana Centre for Cognitive Behaviour Therapy in Fort Wayne, Indiana. She is an associate faculty member in Psychology and Biology at Indiana/Purdue Universities and former member of the Executive Board of Directors of the International Association for Cognitive Psychotherapy. In addition to achieving national certification as an Advanced Practice Psychiatric Clinical Nurse Specialist with prescriptive authority, she has senior level international certification as an Advanced Practice Certified Addiction Nurse through the International Society of Nurses on Addictions (IntSNA) and is former President of NAADAC, The Association for Addiction Professionals. Sharon has lectured to professional and military/law enforcement audiences worldwide. She has authored more than 50 chapters and articles and has been a guest expert on the TV show, The Doctors, in the USA.
She is the co-editor for both the therapist manual and patient handbook of Overcoming Depression: A Cognitive Behaviour Approach (Oxford University Press, 2009), senior editor and author of Living and Surviving in Harm's Way: The Psychological Treatment Manual for Pre-and Post-Deployment of Military Members(Routledge, 2008), Behind the Badge: A Psychological Treatment Handbook for Law Enforcement Officers, (Routledge, in Press) and senior editor and author of Cognitive Behaviour Therapy in Nursing Practice (Springer Publishers, 2005). Sharon has a Master's in Advance Practice Psychiatric Mental Health Nursing, a Masters in Counselling in Psychology and is currently pursuing a Doctor of Health Sciences at the Huntington College of Health Sciences in Knoxville, TN, USA.

This online workshop will give you instant access to 5 hours of video content, accessible via streaming on our website, as well as downloadable PowerPoint slides and additional worksheets/materials to use with your clients. You can view the course content in your own time, there is no time limit on access.
A certificate of completion will be generated upon finishing the course and completing a short evaluation quiz. Please consult your professional organisation/association to confirm whether you are able to claim any CPD points/hours for this online workshop.