29 Jul

Creating Harmony: Personality Disorders in the Workplace

When we talk about mental health at workplace, what we usually have in mind is fostering good understanding of mental illness, developing strategies to support employees who suffer from mental illness, and working in such a way that chronic stress is eliminated or managed efficiently. However, as we raise awareness of mental illness in order to provide employees with a supportive work environment, we often forget to also look at raising awareness about a  special group of psychological disorders most workplaces are unaware of: personality disorders.
Personality Disorders are distinctly different than other types of mental health disorders, such as depression, anxiety or Bipolar-Affective Disorder.  They present a vital challenge to the workplace, because working with an individual with a personality disorder can be one of the most stressful things a worker will encounter on the job.  The impact of personality disorders is not just confined to the afflicted individual but it also affects those who work with this person.
Individuals who come to the job with personality patterns that are unique, subtle and that may contain traits threatening to the organisation run the risk of the organisational goals not being met. Whilst it is true that not all "people problems" are caused by personality disorders, one may say that these problems are more frequent than most organisations are aware of.
Moreover, these problems can function like a hidden cancer, slowly and persistently sucking the life out of productive and viable organisations by creating inefficient management, sexual harassment, passive-aggressive responses to normal demands, excessive litigation, escalating expenses, and job-related stress.
The magnitude of the problems that these individuals cause for their organisational settings are often of such astounding proportions that they may be immeasurable.  Organisations are forced to waste hours of time resolving disputes, responding to countless memos and endless battles, or even going to court.  Many organisations have been crippled as a result of an individual with personality disorder.
This course will teach you how to recognise problematic behaviours, and how to respond effectively in order to protect yourself, your organisation and colleagues from unnecessary distractions or damage. Regardless of the position you represent, whether you are a manager, supervisor or a colleague of an employee with traits of personality disorder, you should have this knowledge.  With this knowledge, you can support each other in your team and you can also support the person who might be in the centre of the problematic issue.  The most dangerous thing is not having this knowledge as it is likely to lead to a split within the organisation, perhaps financial losses or loyal employees leaving.
Similarly, if you are a therapist and/or an EAP counsellor, you will be so much more effective if you can fully understand how to support your clients who might otherwise be wronged or stressed by having to deal with personality disordered individuals they work with.
This course will be useful for:
Anyone who works and has some type of relationship with another person on the job.
Anyone who finds himself/herself troubled by social interactions in their work, and anyone who is plagued by inefficiency of their workgroup, or finds themselves in an abusive work situation.
Managers, CEOs, team leaders who find that the work and productivity in their organisation has been thwarted or inhibited by the interactions within their workplace.
Anyone who encounters a wide range of problems and situations that make the workplace difficult.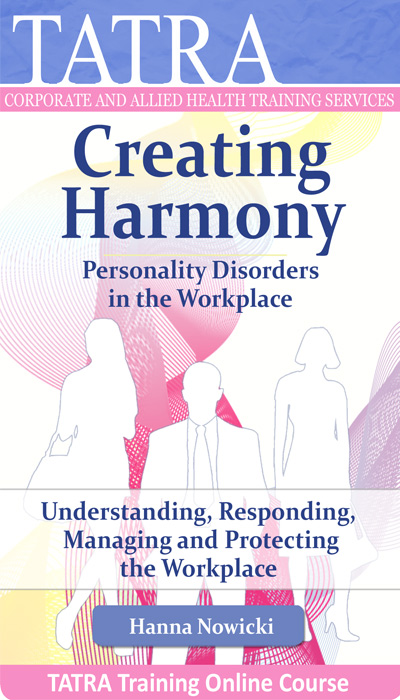 Recognise the types characteristics of a toxic workplace.
Increase your awareness of the impact narcissistic, passive-aggressive and psychopathic individuals may have on the organisation and learn strategies to diffuse these behaviours.
Learn how to support borderline, dependent and avoidant employees by the use of simple strategies that will protect both the organisation and the employees.
Learn how you can respond to histrionic, schizoid, obsessive-compulsive and paranoid workers who obstruct the work of others.
Recognise traits of personality disorder early and at the point of the job interview.
Recognise the strengths and talents the employees with personality disorders can offer and allocate tasks and roles accordingly.
Become efficient in supervising the employees with traits of personality disorders.
Equip yourself with knowledge about effective strategies to respond to personality disorders in the workplace and support your clients with realistic and practical information


This online workshop will give you instant access to 11 sessions of video content, accessible via streaming on our website, as well as downloadable supplemental notes and case studies. You can view the course content in your own time. You can view the course content in your own time, there is no time limit on access.
The duration of this workshop is 6 learning hours.  A certificate of completion will be generated upon finishing the course and completing a short multiple-choice assessment test. Please consult your professional organisation/association to confirm whether you are able to claim any CPD points/hours for this online workshop.