14 Apr

Cultivating Well-Being and Meaning During COVID-19

In recent months, people throughout the world have been impacted and shaken by the COVID-19 crisis. Seemingly overnight, our entire world has been turned upside down in both direct and indirect ways. Businesses have closed, mandates to self-quarantine have risen, and social distancing has become a way of life. Above all, the uncertainty, fear, and unknown course and duration of the virus have paralyzed much of society.
For many of our clients, struggles like depression and anxiety have worsened, and have even been exacerbated by some of the very strategies we must now follow to ensure health and safety in our communities. As clinicians, we find ourselves in a unique position to provide assistance during this challenging time. By both understanding the psychological reactions our clients may be experiencing in this crisis, and exploring meaningful approaches to foster peace and well-being, participants in this webinar will be well-equipped to aid their clients in this unique and uncharted moment.
This webinar, led by international speaker and author Jonah Paquette, will provide attendees with practical skills and approaches to help their clients navigate the turbulent waters of COVID-19. With a strengths-based approach aimed towards fostering well-being amidst the current crisis, participants will explore how concepts such as gratitude, self-compassion, acceptance, and resilience can be applied to clients struggling in the wake of COVID-19. Attendees will explore fifteen pathways (along with over fifty practical strategies) for fostering well-being and gaining balance.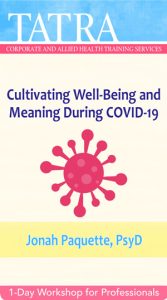 Identify common reactions clients may be experiencing during COVID-19, including effects on mood, sleep, and anxiety.
Explore specific brain regions linked to positive emotional states, and identify techniques that can help increase neuronal activity in these areas to create lasting change through neuroplasticity.
Utilise research-backed approaches to effectively treat anxiety and worry.
Administer specific practices to cultivate self-compassion, gratitude, compassion, and healthy lifestyle habits.
Employ research-backed approaches drawing from positive psychology and mindfulness that can be tailored to common reactions during the COVID-19 crisis.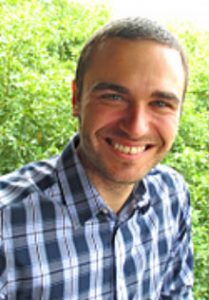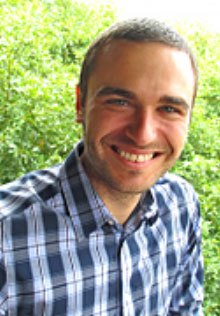 Jonah Paquette, PsyD, is a clinical psychologist, international speaker, and author. He is the author of Real Happiness (PESI Publishing, 2015), a self-help book in which he distills the key findings in the field of happiness research, and offers user-friendly tools to achieve lasting well-being. His second book, The Happiness Toolbox (PESI Publishing, 2018), a research-based self-help workbook, provides easy-to-use handouts and worksheets designed to increase happiness and life satisfaction. His forthcoming book, Awestruck (Shambhala Publications, 2020), will explore the science of awe, and how moments of wonder benefit our physical and emotional health.
Dr. Paquette is a psychologist at Kaiser Permanente in the San Francisco Bay Area, where he serves as the Assistant Regional Director of Mental Health Training. Spanning 20 medical centers and consisting of nearly 200 mental health trainees, it is the largest non-governmental training program in the United States. In addition to his clinical work and writing, Dr. Paquette offers training and consultation to therapists and organizations on the promotion of happiness and conducts professional workshops around the country and internationally. He is also a frequent media contributor, having been featured regularly in print, online, and radio outlets. Dr. Paquette's clinical experiences have spanned a broad range of settings, including Veterans hospitals, community mental health clinics, college counseling centers, and his current work at Kaiser Permanente. For more information about Jonah and his work, please visit www.jonahpaquette.com.

This online workshop will give you instant access to 3 hours of video content, accessible via streaming on our website, as well as downloads for supplemental materials. You can view the course content in your own time, there is no time limit on access.
A certificate of completion will be generated upon finishing the course and completing a short evaluation quiz. Please consult your professional organisation/association to confirm whether you are able to claim any CPD points/hours for this online workshop.