01 Jun

Disarming High Conflict Personalities in the Workplace: Dealing with the 8 Most Difficult People You Encounter Before They Rob You of Your Peace, Productivity, and Profit!

Leadership in corporate life has many perks, including influence, impact, and income. However perhaps the biggest unseen drawback is dealing with difficult employees, team members, and customers.
You know them. The ones who regularly question decision-makers. The ones who constantly drag their feet. Bullies, gossipers, complainers, drama queens, and those who ask a thousand questions and still can't seem to meet a deadline – just to name a few!
Difficult people in the workplace negatively impact morale, affect employee satisfaction scores, and contribute to generally toxic workplace environments.  When left unchecked, the entire organization sees motivation wane, retention suffer, and poor performance outcomes  ultimately come to bear upon the bottom line. Recent studies have shown an enormous amount of dollars lost by refusal to deal with people issues.
Culture is contagious and reputations can be developed quickly in most industries. The best candidates are looking for healthy work environments with positive cultures and are avoiding those who have developed reputations of ill-repute.
But your group, team, or organisation doesn't have to stray down this path of negativity and tension so many companies do. Leaders can learn to communicate in a manner that prevents many of these conflicts from occurring in the first place, and learn to respond proactively and effectively when they do.
Attend this lively and engaging half-day workshop with international speaker/trainer/coach Dr. Jeff Riggenbach and learn to deal with the high-conflict and otherwise difficult people in your organisation in a way that will stop them in their tracks. Leave with practical strategies to lead by example by proactively communicating effectively with all personality styles in a way that will:
Produce trust and respect
Improve your team cohesion
Boost group morale
Enhance motivation of productive employees
Positively impact retention
Leave this training feeling energized and equipped to enhance your organization's culture by up-leveling your communication in a way that will positively impact recruiting, hiring, and retention. Avoid burnout, and ultimately keep people problems from robbing you of your peace, productivity and profit.

Decrease burnout by improving the physical and mental health of your employees so they can be happier and more productive at work
List the 4 DISC personality styles and understand the role of understanding yours and others in more effective workplace communication
Describe the 8 types of high-conflict personalities and learn how they present problems in workplace settings
Assess 3 areas burnout affects employee retention
Utilise the 5 "magic questions" to disarm office conflict with anyone
Recite the 3 levels of your organisation that enhanced communication skills will improve your key performance indicators
Explain the use of leverage to to deal with bullying and decreasing hostile work environment complaints
Use validation based communication to increase compliance with requests or directives…the first time!
Learn how to talk to difficult people without triggering them to maximize effectiveness
Make your company culture attractive to in-demand candidates
Close the gap between company expectations and employee performance
Minimize Hostile Work Environment and other HR Related Complaints
Utilize belief-based connecting to decrease non-compliance with managers directives
Distinguish between avoidable vs unavoidable turnover and critique 3 areas influencing employee turnover
Lean the three biggest lost revenue factors related to retention and what to do about them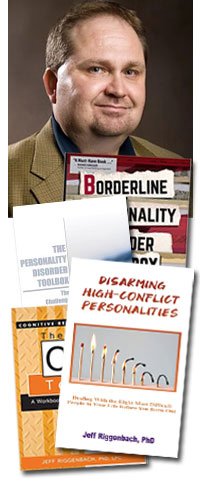 Jeff Riggenbach, Ph.D., LPC, is one of the most sought-after educators in North America in the area of CBT, personality disorders and addictions. Over the past 20 years he has developed and overseen CBT based Mood Disorder, Anxiety Disorder, Borderline Personality Disorder treatment programs at two different psychiatric hospitals serving over 3,000 clients at multiple levels of care. Dr Riggenbach trained at the Beck Institute of Cognitive Therapy and Research in Philadelphia, is a Diplomat of the Academy of Cognitive Therapy, and has presented in all 50 United States, Mexico, Australia and Canada on topics related to CBT, DBT and Personality Dysfunction.
  
Dr Riggenbach has authored four best-selling books, including Borderline Personality Disorder Toolbox: A Practical Evidence-Based Guide to Regulating Intense Emotions (2016), which was Amazon's #1 new release in its category,
The Personality Disorder Toolbox: The Challenge of the Hidden Agenda, and his most recent Disarming High-Conflict Personalities: Dealing with the Eight Most Difficult People in Your Life Before They Burn You Out.
  
Jeff is known for bridging the gap between academia, research findings and day-to-day clinical practice, and his seminars on DBT, CBT, and Schema-Focused Cognitive Therapy receive the highest evaluations in terms of clinical utility as well as entertainment value.

This online workshop will give you instant access to 2 sessions of video content, accessible via streaming on our website, as well as downloadable PowerPoint slides (PDF).
The duration of this workshop is 3 learning hours.
You can view the course content in your own time, there is no time limit on access.
A certificate of completion will be generated upon finishing the course and completing a short multiple-choice assessment test. Please consult your professional organisation/association to confirm whether you are able to claim any CPD points/hours for this online workshop.