28 Aug

Effective Approaches for Successful Change in Clients with Borderline, Narcissistic and Antisocial Personality Disorders

0% Complete

0/5 Steps

Behavioural and Brief Treatment of Personality Disorders
Practical Management of Personality Disorders
Long-term, short-term, and brief treatment
Working with individuals with Personality Disorders has long been identified as one of the most challenging areas of practice.  This seminar will present cutting-edge information on Personality Disorders, along with the most current, effective, and powerful methods for treating and managing three challenging Personality Disorders: Borderline, Narcissistic and Antisocial.
Despite having familiarity with some specific aspects or models of understanding or treating personality disorders, most professionals find personality disorders to be the most confusing, frustrating, and difficult of all mental health conditions.  Fortunately, there have been recent advances in our understanding of personality disorders that offer professionals new, powerful, and highly effective methods for treating and managing these conditions in nearly any mental health, health care, or social service setting.
This is a unique training in which Dr Daniel Fox will draw on fifteen years of development and research to teach professionals the cutting-edge methods for diagnosing, treating and managing clients with personality disorders.  You will learn the elements common to all personality disorders and the most effective methods to treat and manage clients with the three above mentioned personality disorders.
This training will focus on teaching the practical methods that have been found to work successfully with this client population, including methods to repair disordered personality, diminish unproductive behaviours, enhance productive behaviours, generate appropriate and adaptable behaviours, and a.  These methods can be applied across a wide variety of mental health and social service settings, and can significantly improve professionals' ability to deal effectively with this difficult client group.  You don't have to be stuck, these tools will help you move forward, cut down on treatment frustration, and build a relationship you previously not thought was possible with your clients with these disorders.
Running time: 5 hours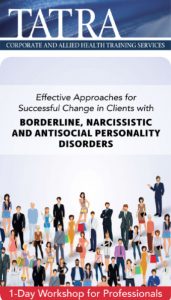 Identify and manage critical factors associated with the stage of treatment for clients with narcissistic and borderline pathology.
Manage borderline and narcissistic pathological expression that disrupts the course of treatment.
Identify and counter maladaptive patterns that often disrupt your clients' lives and thwart successful treatment.
Learn how to implement techniques to address adverse individual and couple patterns and pathology.
Apply evidence-based treatment modalities in your practice and produce therapeutic change.
Learn how to implement techniques to address surface and core maladaptive patterns in your clients.
Implement perpetuation of success strategies for your clients.

Daniel J. Fox, Ph.D., is a clinical psychologist, international speaker, and award winning author. He has been specializing in the treatment and assessment of individuals with personality disorders for over 15 years in the state and federal prison system, universities, and in private practice. He is the author of The Clinician's Guide to Diagnosis and Treatment of Personality Disorders and the award winning Antisocial, Borderline, Narcissistic and Histrionic Workbook: Treatment Strategies for Cluster B Personality Disorders. He has published several articles in these areas. Dr. Fox has been teaching and supervising students for over 15 years at various universities across the United States, some of which include West Virginia University, Texas A&M University, University of Houston, Sam Houston State University, and Florida State University. He is currently a staff psychologist in the federal prison system, Adjunct Assistant Professor at University of Houston, as well as maintaining a private practice that specializes in the assessment and treatment of individuals with complex psychopathology and personality disorders.
Dr. Fox has given numerous workshops and seminars on ethics and personality disorders, personality disorders and crime, treatment solutions for treating clients along the antisocial, borderline, narcissistic, and histrionic personality spectrum, emotional intelligence, managing mental health within the prison system, and others. Dr. Fox maintains a website of various treatment interventions focused on working with and attenuating the symptomatology related to individuals along the antisocial, borderline, narcissistic, and histrionic personality spectrum.

Purchasing this online workshop will give you instant access to 5 hours of video content, accessible via streaming on our website. You can view the course content in your own time, there is no time limit on access.
A certificate of completion will be generated upon finishing the course and completing a short evaluation quiz. Please consult your professional organisation/association to confirm whether you are able to claim any CPD points/hours for this online workshop.