03 Feb

Ericksonian Hypnosis and Psychotherapy Masterclass

Ericksonian hypnosis is a powerful transformational tool for any clinician desiring to make a profound difference in the lives of clients and your own as well. This course is designed for both the beginner and more advanced clinician using hypnosis, delivers dynamic content and the most advanced and in-depth tools and strategies for clinicians who want to become proficient in using hypnosis in psychotherapy.
Milton Erickson was a master therapist and promoted the philosophy, "Whatever you can imagine, you can accomplish." He personally knew that to be true when he overcame polio twice in his life and discovered the amazing abilities all people have to recover from pain, illness, trauma, and create the life they want.
More recent advancements in the research on hypnosis and the brain reveals a deeper understanding of the remarkable ability of the mind and body to heal and move into states of thriving for longer periods of time. By accessing and building the needed resources to overcome overwhelming events, past difficulties, and old programming, clinicians can help their clients recover themselves, create their best possible future, and assist in emotional charge disappearing.
LEARNING OBJECTIVES
Implement the Power to Reprogram the Mind, Release the Past, and Create a New Destiny with Hypnosis
Understand How Life Patterns Connect to Habitual States of Trance
Expand the Results of Therapy by a New Understanding of the Conscious and Unconscious Minds
Recruit More Positive Emotion Before Interventions to Condition Them for Client Healing
Employ Novelty and Curiosity to Motivate Client Change
Recognize Tipping Points in Client Growth:  When the Desire for Change is Greater than the Distress
Identify Signs of Trance Trauma and the Effect on the Brain for Better Interventions
Understand How Trauma Results in Epigenetic Effects
Links Between Stress, Illness, Mood, and Thought
Demonstrate Milton Erickson's Powerful Approach to Healing
Explore Simple Inductions Using the Language of the Unconscious Mind
Identify Advanced Inductions Using the Power of the Designed Story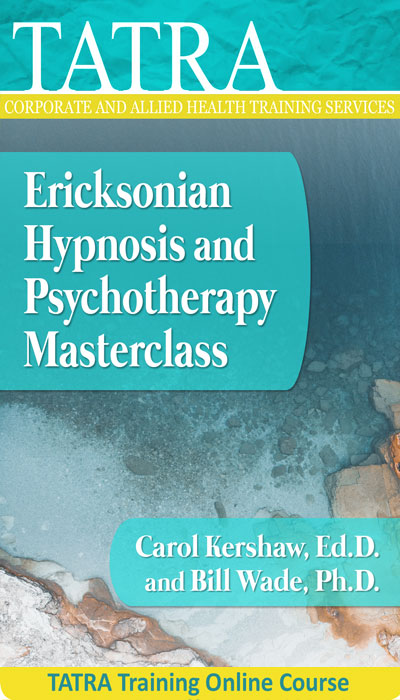 Bill Wade, Ph.D. is Co-Director of the Milton H. Erickson Institute of Houston, and is accredited as both a marriage and family therapist and professional counsellor, holding supervisory status with both capacities.
He is a Clinical Fellow with the American Association for Marriage and Family Therapy and is a member and Approved Consultant with the American Society of Clinical Hypnosis. Dr Wade is co-author of Brain Change Therapy: Clinical Interventions for Self-Transformation, published by WW Norton and The Worry-Free Mind, published by Career Press.
He is a long-time student of meditation and has taught at several Buddhist temples. He has presented workshops in Spain, Italy, and across the United States. He has been utilizing psychotherapy and clinical hypnosis for over 35 years.
Carol Kershaw, Ed.D. is Co-Director of the Milton H. Erickson Institute of Houston. She is an international trainer, author and psychotherapist running her private practice in Houston, Texas, USA. She is a member of the American Psychological Association, and an Approved Consultant for the American Society of Clinical Hypnosis.
She is board certified with the status of Fellow in EEG Biofeedback and the author of The Couple's Hypnotic Dance and co-author of Brain Change Therapy: Clinical Interventions for Self- Transformation published by WW Norton and The Worry-Free Mind published by Career Press. She has been invited to speak for NASA, and she also presented in Saudi Arabia, Chile, Mexico, Spain, Canada, Italy as well as in the United States and in Australia.

This online workshop will give you instant access to 12 hours of video content, accessible via streaming on our website, as well as downloads for supplemental materials. You can view the course content in your own time, there is no time limit on access.
A certificate of completion will be generated upon finishing the course and completing a short evaluation quiz. Please consult your professional organisation/association to confirm whether you are able to claim any CPD points/hours for this online workshop.