06 Nov

Evidence Based Techniques For Treatment Of Resistant Anxiety, Worry, Panic And Insomnia

0% Complete

0/5 Steps

This workshop focuses on effective strategies to help clients overcome excessive worry, panic attacks and insomnia.  You will learn specific programs for: perfectionism, subjugation, catastrophising, intolerance of uncertainty, procrastination, and attentional difficulties. Dr Abel talks about avoiding five common pitfalls of ineffective anxiety treatment.  She presents many innovative, creative and pragmatic changes to empirically supported strategies that you will not learn in any other seminars.
Among the learning experiences in which you will participate is a demonstration of self-control desensitisation that helps clients to master catching the anxiety spiral early to significantly reduce the habit of worry and panic.  You will master a quicker more practical method of cognitive therapy by participating in demonstrations of this method.  You will also learn traditional and newer forms of exposure therapy including flooding phobic fears and words, interoceptive exposure, and the use of technology in exposure.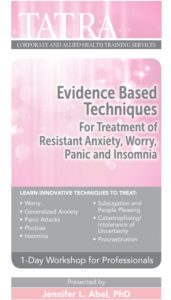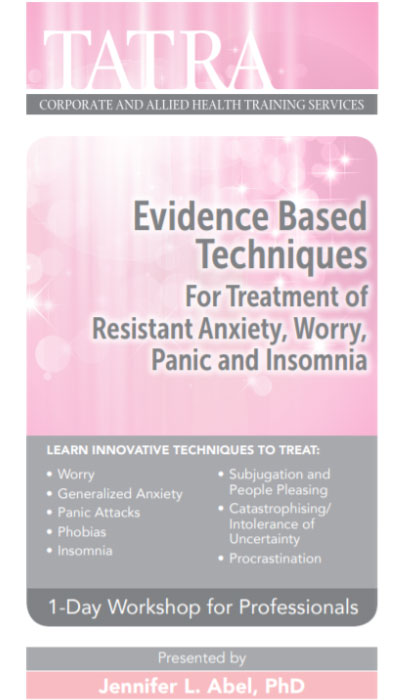 Identify five treatment pitfalls and learn evidence based approaches to correct them.
Understand the anxiety spiral and learn several methods to catch it early to prevent Worry and Panic from getting out of control.
Learn four unique ways to utilize Mindfulness to treat Worry including Mindful Labelling and a Mindfulness Game.
Understand the importance of and apply the use of process words and moving toward relaxation vs. away from anxiety when teaching clients mindfulness and other relaxation techniques.
Understand the relationship between worry and problem solving, and learn what to do about it.
Learn how panic, worry, and fear of guilt are similar to OCD and how to stop the cycle of negative reinforcement using multiple forms of Exposure Therapy.
Learn the eight preferred "P's" of Thought and how to use them to replace worry.
Be able to treat problems that are often resistant to treatment: Social Issues, Avoidance of Emotional Processing, Perfectionism, Subjugation, Procrastination, and Catastrophizing/Intolerance of Uncertainty.
Understand the Habits that Cause and Contribute to Insomnia and be Able to Use Effective Techniques for Improving Sleep.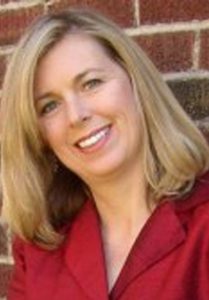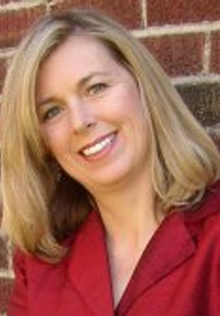 Dr Jennifer Abel is a scientist-practitioner specialising in the cognitive-behavioural treatment of anxiety disorders who has been in clinical practice for over 20 years. She served as the Associate Director of the Stress and Anxiety Disorders Institute at Penn State, USA under the direction of the leading expert in Generalized Anxiety Disorder (GAD) T.D. Borkovec, before opening a private practice in St. Louis.
Dr. Abel has published many articles in professional journals on her work in anxiety and behavioural medicine. Dr Abel is known for her expertise in Worry and GAD.  She has been interviewed and quoted by several popular magazines (such as Glamour, Health, Prevention), and The Association for Behavioural and Cognitive Therapies invited her to write a pamphlet about GAD.  Dr. Abel's book Active Relaxation: How to Increase Productivity and Achieve Balance by Decreasing Stress and Anxiety, was published in 2010 and has received outstanding reviews from mental health care professionals and readers alike.

This online workshop will give you instant access to 5 hours of video content, accessible via streaming on our website, as well as downloadable supporting materials. You can view the course content in your own time, there is no time limit on access.
A certificate of completion will be generated upon finishing the course and completing a short evaluation quiz. Please consult your professional organisation/association to confirm whether you are able to claim any CPD points/hours for this online workshop.