24 Aug

Gaslighting: Helping your Client Survive Hidden Manipulation

As practitioners, it is our obligation to our clients to help them spot manipulation and to teach them the techniques that will protect them from being mistreated and traumatised by this very common dynamic. Join Professor Tanya Robinson in her fascinating new course on the gaslight effect, in which she explains the complexities of this hidden but yet so common manipulation strategy people use in order to control others.
Learn how to spot early warning signs, different types of gaslighting, and then see how Professor Robinson leads you towards discovering protective strategies you can teach your clients.  See how gaslighting is used in the social media, politics, cults, families and the workplaces.  Learn how to explain healthy behaviours that your clients might need to learn about if they've been manipulated throughout their entire lives.  Equip yourself with knowledge so that you can then work effectively with your clients who are often only given simplistic advice from others, if any.
Learning about the dark side of human nature such as manipulation, is part of our jobs as counsellors and therapists, so do not miss this unique opportunity and attend this course.  You will be fascinated and you will enjoy it but most importantly, with this knowledge, you will be able to support clients who are victims of this common covert manipulation technique with confidence and with good results.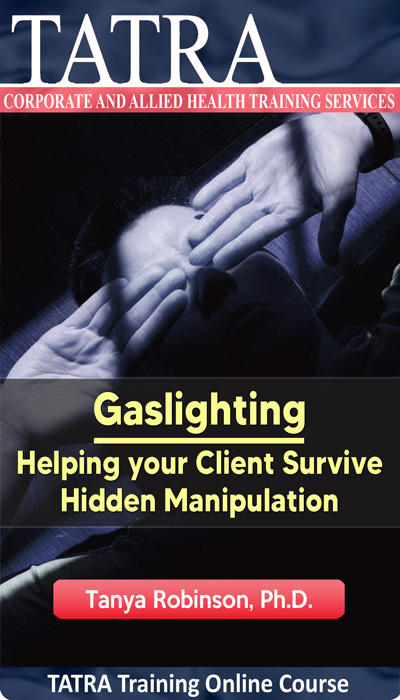 Program
What is gaslighting
Different types of gaslighting

Triangulation
Splitting
Blatant attempts to carry favour
Projection and using disclosure as psychological ammunition
Double bind
"Flying Monkeys"
Narcissistic rages
Bait and Switch

Gaslighting in intimate relationships: Love-bombed, Hoovered, Devalued and Discarded
Warning Signs in the Early Stages of the Relationships
Why gaslighters behave this way?
Strategies controlling people use
Why do people stay with gaslighters?
Protective Strategies: Helping Clients in the Complex Situations
Understand how healthy people behave
Saboteurs, Harassers, Off-Loaders and Thunder Stealers
Bullying and Harassment in the Workplace

Workplace Violence
Harassment by Clients
Harassment at University
Domestic Violence

Trauma bonding and Stockholm Syndrome
Common Characteristics of Gaslighters in the Public Sphere
Gaslighting Leaders
Gaslighting Media
Gaslighting in Social Media
Cults
Gaslighters in the Inner Circle of Trust
Gaslighters in Your Family
Adapting Your Counselling Style
What to do if your treatment does not work.


This online workshop will give you instant access to 8 sessions of video content, accessible via streaming on our website, as well as downloadable PowerPoint slides. This course also includes extensive additional reading material, papers and articles.
You can view the course content in your own time, there is no time limit on access.
The duration of this workshop is 5 learning hours.  A certificate of completion will be generated upon finishing the course and completing a short multiple-choice assessment test. Please consult your professional organisation/association to confirm whether you are able to claim any CPD points/hours for this online workshop.