24 Sep

Healing The Family Members Of People With Narcissistic And Borderline Personality Traits

0% Complete

0/5 Steps

Every person with Borderline or Narcissistic Personality Disorder dramatically affects many other people with their dysfunctional behaviours, including parents, siblings, one or more spouses, and children as well as friends, co-workers, neighbours, etc. These family members are more likely to come into therapy than are the borderline or narcissist person. They are also very likely to be on anti-depressant and anti-anxiety medications. It is essential to be able to effectively help these numerous clients who may be greatly distressed and their lives disrupted by borderline or narcissist behaviours.
Traditional family therapy techniques do not work effectively with these families because of the emphasis on communication, empathy and cooperation, which the borderline or narcissist is often unable to do and feels highly resistant to doing. Family members are frequently ignored and their concerns dismissed as therapists put their primary attention onto the mental illness of the borderline or narcissist client. This workshop will focus on helping these many overlooked, neglected and misunderstood family members to find understanding, improved mental health, and to learn more effective coping skills to deal with their unique situation.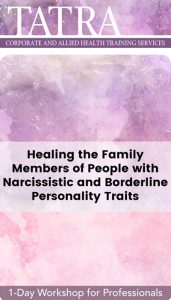 • Identify traits of BPD and NPD.
• Understand the effects of borderline (BP) and narcissism (NP) on family members.
• Differentiate between family members who become codependent (CoD) with the BP/NP compared with those who do not.
• Learn why BP/NPs and co-dependents are attracted to each other.
• Identify and understand the mutually reinforcing relationship patterns between the BP/NP and the co-dependent.
• Compare the different therapeutic needs of the BP, the NP and the co-dependent.
• Understand why the BP/NP and the co-dependent usually don't heal in couples/family therapy.
• Learn ways to reduce the codependent's anxiety and depression.
• Identify and coach family members in effective assertion concepts and skills.
• Learn to coach co-dependent family members to stop reinforcing the NP/BP's dysfunctional behaviours.
• Be able to use cognitive behavioural techniques (CBT) to increase the codependent's self-focus, self-encouragement, and personal rights.
• Learn techniques to help CoD family members identify, set, maintain, and defend personal and emotional boundaries with BP/NP family members.
• Learn exercises to help CoDs rebuild self-esteem, establish a wider support system, identify their own personal goals, and become more independent.

Margalis Fjelstad, PhD, has been a Marriage and Family Therapist for nearly thirty years. Through her 35 years of teaching at CSUS in California and then Regis University in Colorado, she has trained hundreds of graduate students to become therapists. She founded Threshold Educational and Counselling Services in Sacramento, California and was the clinical director and supervisor there for 25 years. Dr Fjedstad has specialized in working with clients who have a parent or spouse with Narcissistic or Borderline Personality Disorder and has worked for many years with clients who grew up with a mentally ill parent and those who take on a caretaking role with a family member who have BPD or NPD. Over the years, she has become an expert on the topic and she now provides national (in the USA) phone consultations with callers who have questions about a current or former relationship with someone who has BPD or NPD. Sher is the author of two bestselling books on the topic: Stop Caretaking the Borderline or Narcissist: How to End the Drama and Get On with Life and Healing from a Narcissistic Relationship.

This online workshop will give you instant access to 5 hours of video content, accessible via streaming on our website, as well as downloads for PowerPoint slides and supplemental materials. You can view the course content in your own time, there is no time limit on access.
A certificate of completion will be generated upon finishing the course and completing a short evaluation quiz. Please consult your professional organisation/association to confirm whether you are able to claim any CPD points/hours for this online workshop.