30 Jan

Healing Trauma with Altered Mind States

Mental stress is a global problem.  Over time it results in such a disconnection from the self that anxiety, depression, and rumination become the "normal" state of mind, and chronic illness can accompany an over aroused nervous system.  Besides early conditioning patterns of thinking, feeling, and behaving that interfere with thriving, if the onset of illness accompanies a period of mental stress, the trauma of that experience often results in a loss of courage, fortitude, and persistence needed in creative problem solving.  Supportive psychotherapy is often not enough to deal with these issues.
Traumatic events that stimulate an over-active sympathetic system have now been directly linked to several types of chronic illnesses, including heart disease, type 2 diabetes, autoimmune disorders like rheumatoid arthritis and lupus, chronic pain, digestive conditions and fibromyalgia.  Attempts to manage these illnesses without attention to underlying trauma responses may not calm the nervous system or ameliorate the root problem.
The newest science has discovered that clients can create "miracle" changes through intentionally altering states of consciousness.  However, most therapists are not aware of the healing possibilities that occur with deeper states of mind.  Clients have the ability to heal from illness, deprogram old beliefs and limiting ideas of what is possible, and live the life they were meant to have.
The evidence shows that change happens at a cellular level from rebalancing and resetting the body/mind system and results in real health and wellbeing.  In fact, spontaneous healing is not a miracle.  It is a fact of our biology.  This workshop explores the recent research and tools that work to create states of coherence that lead to actual physical and mental healing.  When attitudes, beliefs and ideas of limitation are addressed with altered state tools, measurable physical changes occur.  Change can be profound and lasting.
Science has discovered the transformational code to achieve the results of dissolving trauma-based rumination and moving into states of thriving for longer periods of time.  Often trauma-related illness clears up as clients' fundamental wellbeing increases.
Learning Objectives:
Discuss the global mental stress and emotional disconnection from having gone through the pandemic and the major adjustments people have been forced to make.
Evaluate the kinds of trauma people have been through including associated chronic illness.
Formulate the types of altered states that can be utilized to restore connection, safety, and healing.
Assess the transformational code for emotional and physical recovery discovered from the research surrounding meditation effects and physical and mental healing from a biological point of view.
Decipher the common denominator among all of the best therapeutic approaches to use as a focus of treatment.
Discuss state dependent memory and learning as important elements in change.
Evaluate the recent research on how altered state tools affect the body.
Assess how certain held beliefs about one's identity limits the view of what is possible in a person's life.
Discuss how to replicate the brain states of advanced meditators and live more in states of calm and thriving.
Evaluate a process of helping a client move from feeling like a victim of circumstance to living an empowered life.
Review research on meditation and reduction of inflammation.
Discuss how the mind can change human biology.
Delineate 5 little known defenses of the body to regain health.
Demonstrate how to achieve the state of coherence in healing.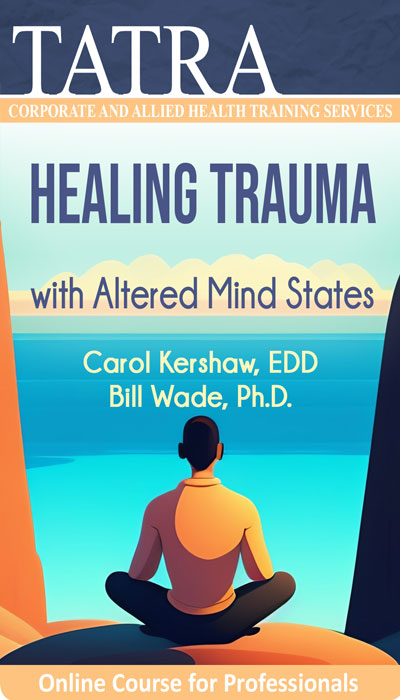 Bill Wade, Ph.D. is Co-Director of the Milton H. Erickson Institute of Houston, and is accredited as both a marriage and family therapist and professional counsellor, holding supervisory status with both capacities.
He is a Clinical Fellow with the American Association for Marriage and Family Therapy and is a member and Approved Consultant with the American Society of Clinical Hypnosis. Dr Wade is co-author of Brain Change Therapy: Clinical Interventions for Self-Transformation, published by WW Norton and The Worry-Free Mind, published by Career Press.
He is a long-time student of meditation and has taught at several Buddhist temples. He has presented workshops in Spain, Italy, and across the United States. He has been utilizing psychotherapy and clinical hypnosis for over 35 years.
Carol Kershaw, Ed.D. is Co-Director of the Milton H. Erickson Institute of Houston. She is an international trainer, author and psychotherapist running her private practice in Houston, Texas, USA. She is a member of the American Psychological Association, and an Approved Consultant for the American Society of Clinical Hypnosis.
She is board certified with the status of Fellow in EEG Biofeedback and the author of The Couple's Hypnotic Dance and co-author of Brain Change Therapy: Clinical Interventions for Self- Transformation published by WW Norton and The Worry-Free Mind published by Career Press. She has been invited to speak for NASA, and she also presented in Saudi Arabia, Chile, Mexico, Spain, Canada, Italy as well as in the United States and in Australia.

This online workshop will give you instant access to 7 hours of video content, accessible via streaming on our website, as well as downloadable PowerPoint slides. You can view the course content in your own time, there is no time limit on access.
The duration of this online course is 7 learning hours.
A certificate of completion will be generated upon finishing the course and completing a short evaluation quiz. Please consult your professional organisation/association to confirm whether you are able to claim any CPD points/hours for this online workshop.