25 Feb

How to Clinically Assess ADHD Using Both Objective and Subjective Data

Assessing for Attention Deficit Hyperactivity Disorder (ADHD) can be challenging.  Not every person with ADHD displays all of the symptoms, nor does every person with ADHD experience symptoms to the same level of severity or impairment. Some people have mild ADHD, while others have severe ADHD, resulting in significant impairments.
There is no single medical, physical, or genetic test for ADHD. However, a diagnostic evaluation can be provided by gathering information from multiple sources. These include ADHD symptom checklists, standardized behaviour rating scales, a detailed history of past and current functioning, and information obtained from family members or significant others who know the person well. ADHD cannot be diagnosed accurately just from brief office observations, or just by talking to the person. The person may not always exhibit the symptoms of ADHD in the office, and the diagnostician needs to take a thorough history of the individual's life. A diagnosis of ADHD must include consideration of the possible presence of co-occurring conditions.
ADHD is a lifespan condition that affects children, adolescents, and adults of all ages.  Many clients with ADHD, both young and adult, feel deeply frustrated and embarrassed by the ongoing problems caused by their ADHD. It is very important that the person being evaluated discuss these problems openly and honestly, and not hold back information due to feelings of shame or fear of criticism. The quality of the evaluation, and the accuracy of the diagnosis and treatment recommendations, will be largely determined by the accuracy of the information provided to the examiner
In this training, Dr Bruce Cappo, Clinical Psychologist who specialises in assessment of complex childhood disorders, will provide a comprehensive ADHD assessment methodology.  You will learn how to collect all the necessary data and information, and how to avoid the possible pitfalls in the process of providing a comprehensive ADHD assessment.  You will look at various objective and subjective assessment tasks as well as strengths and weaknesses of each.  The content will also systematically describe alternative diagnoses that may mimic ADHD symptoms.  Various options in obtaining and analysing data in the diagnosis of ADHD will be discussed, including observation, clinical history, self-report, parent or other reports through rating scales, continuous performance tests and clinical interview.  The inclusion of objective measures will be recommended and explained to yield a higher level of accuracy.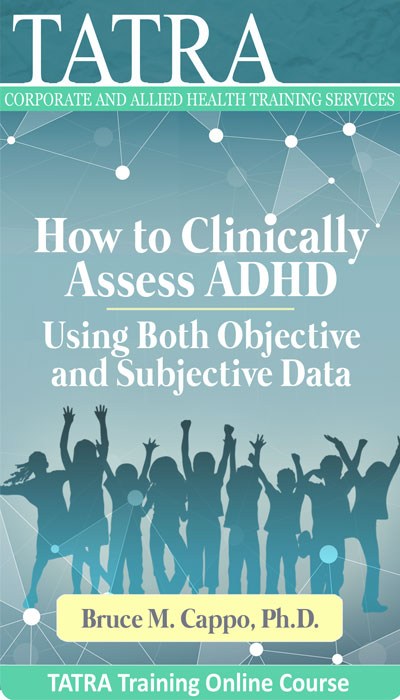 This training will provide participants clinical knowledge and tools to:
a). Learn and understand how to comprehensively assess for Attention Deficit Hyperactivity Disorder (ADHD).
b). Understand the various objective and subjective assessment tasks as well as strengths and weaknesses of each.
c). Understand and describe alternative diagnoses that may mimic ADHD symptoms.
Target Audience:
The target audience for this event includes psychologists, counselors, psychiatrists and other mental health professionals with an interest in ADHD assessment.


This online workshop will give you instant access to 2 sessions of video content, accessible via streaming on our website, as well as downloads for supplemental materials. You can view the course content in your own time, there is no time limit on access.
The duration of this workshop is 3 learning hours.
Please click the green 'Mark Complete' button on each module as you progress. A certificate of completion will be generated upon finishing the course and completing a short assessment quiz. If the certificate is not showing, please confirm you have marked all sections as 'Complete'. Please consult your professional organisation/association to confirm whether you are able to claim any CPD points/hours for this online workshop.