26 Aug

Interventions for Family and Child Therapy Using Stories and Children's Therapy Books

Families often face significant and unique challenges, including addiction, domestic violence, trauma, grief, community violence, and economic struggles. These challenges can be difficult to navigate, and may require tailored interventions in order to address the needs of both the family and children. Children's therapy books and other written stories can be a powerful tool in meeting these needs, as they provide a way to explore and process difficult experiences and emotions in a safe and supportive way.
  
This course is designed to provide therapists with the information and skills they need to effectively use therapy books in clinical practice with families, children, and adolescents. Participants will work through common questions and concerns that many therapists have when using these tools, and will learn how to find and select good therapy books that are appropriate for different age groups and settings. The course will also include discussion of common counselor concerns about using therapy books, such as how to introduce them to clients and how to facilitate the use of these tools in a way that is meaningful and helpful.
  
By the end of this course, therapists will have a solid understanding of how to use therapy books and other written stories as interventions in clinical practice with families and children. They will feel more confident incorporating these tools into their sessions, and will have the knowledge and skills they need to effectively support families and children as they navigate unique challenges and work towards healing and growth.
The course will additionally focus on the "Do's and Don'ts" of using stories and books, how to teach caregivers to effectively use books with their families, understanding risks, and going through example sessions using a therapy book with a child in three different one-on-one sessions.  Books on caregiver addiction, grief, and building self-confidence will be used as the examples.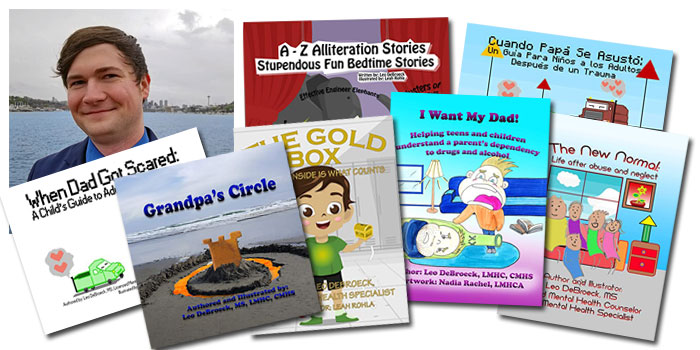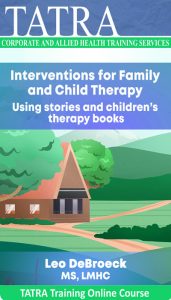 1) Identify and measure that the intervention is successful.
2) Identify one way research has found using stories and therapy books can be helpful to clients.
3) Identify one thing to avoid with clients when using stories and therapy books.
4) Learn how to select and use a book at an appropriate engagement and maturity level for the client.
5) Develop skills to teach caregivers how to use stories in a healing way.
6) Identify risks of using stories and children's therapy books.
7) Identify ways to be able to use story effectively in a one-on-one therapy session and adapt it to the client's specific needs.
8) Learn how to effectively process story endings and use Socratic questioning with clients.

Leo DeBroeck is a Mental Health Practitioner and Child Mental Health Specialist in Washington State (USA). He is CBT Plus certified through the University of Washington and Harborview Sexual Assault and Traumatic Stress Centre. He has completed his Masters of Science in Clinical Psychology at Eastern Washington University with his thesis on factors in suicide. He has experience working with children and adolescents at an intensive inpatient program in Spokane, Washington for several years.
Leo works full-time at a community health centre as a therapist with a team of  Marriage and Family Therapists,  Clinical Social Workers, Advanced Registered Nurse Practitioners, and Psychologists. He has worked in several different levels of care for mental health treatment including long-term inpatient care, WISE wraparound intensive services, school-based therapy services, and outpatient clinical settings. He also works as a quarterly faculty lecturer for Eastern Washington University's satellite campus at Bellevue College. He teaches night classes to graduate and undergraduates in foundations of psychotherapy, trauma: assessment, management, and treatment, cognitive and behaviour change, and others. He has published peer-reviewed scientific research on young adults related to suicidality.
He has written several children's therapy books, which are published on Amazon, for use in therapy settings addressing grief, addiction, neglect, abuse, and others. He is the president and founder of Counsellor's Choice Award, LLC which reviews and promotes scientifically validated therapeutic tools and books.

This online workshop will give you instant access to video content, accessible via streaming on our website. This course also includes PowerPoint slides and downloadable research/references and additional handouts and resources you can use in your practice. You can view the course content in your own time, there is no time limit on access.
The duration of this workshop is 5 learning hours.
A certificate of completion will be generated upon finishing the course and completing a short evaluation quiz. Please consult your professional organisation/association to confirm whether you are able to claim any CPD points/hours for this online workshop.