16 Sep

Marketing Your Private Practice 101 Course: How to Attract More Clients

Imagine if you could always have waiting lists full of clients wanting your services.
This recording will provide you with the solutions you need to grow your business. It will prepare you to successfully handle marketing to attract new clients and to reconnect with the old.
"Marketing Your Private Practice 101 Course"  is an innovative and practical guide for creating business and clinical success in your counselling and therapy practice. You'll be guided through numerous steps that will provide a solid and personalized plan with realistic and attainable goals.  It's like having a professional marketing and business consultant right at your fingertips.
The course will consist of four parts:
Part 1: Making
How to make a marketing campaign
How to hone, design and brand your campaigns.
Making your brand; the do's and don'ts and 'making' a personal brand vs a business brand.
Looking at the differences of types of businesses and how to market differently due to the different approaches your practice may take.
Part 2: Meaning
How to attract more clients in getting across the meaning of your work through your campaigns.
Part 3: Marketing
The do's and don'ts of therapy/coaching marketing.
Ethics, branding, campaigning, different kinds of niches, target groups and more, the Biz Growth Clover – and how this new framework helps hone you for your marketing to work.
Part 4: Messaging
A new look at how you message/communicate your brand and work to the world  – and how you can do it better.
A good look at copywriting, importance of authentic wording with your branding and more.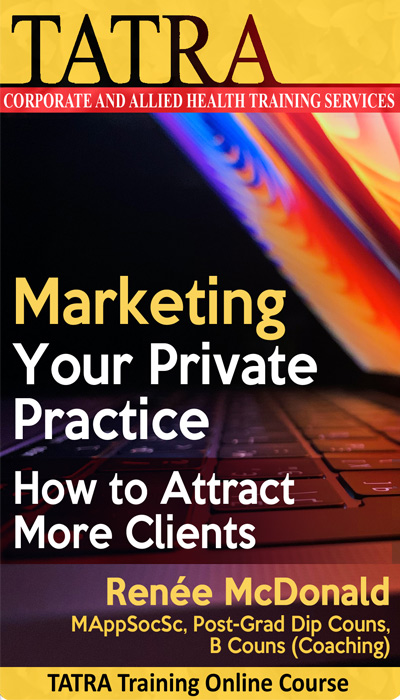 Find better ways to market your professional services
Understand do's and don'ts of marketing professionally
Learn how to curate your message
Consider new ways to market
Introduction to the basics of SEO (Search Engine Optimisation)


This online workshop will give you instant access to 3 sessions of video content, accessible via streaming on our website, as well as downloadable PowerPoint slides and a marketing checklist for your practice. You can view the course content in your own time, there is no time limit on access.
The duration of this workshop is 3 learning hours.
A certificate of completion will be generated upon finishing the course and completing an open-ended questionnaire that will help you reflect on the content. Please consult your professional organisation/association policies to confirm whether you are able to claim any CPD points/hours for this online workshop.