11 Mar

More than Just a Bad Habit: Diagnosis & Treatment of Body-Focused Repetitive Behaviours

Body-focused repetitive behaviours (BFRBs) are intense urges like biting, picking, and pulling that can cause damage but they can be dismissed as "bad habits.". As many as 1 in 20 people have a BFRB. While BFRBs share some symptoms with obsessive-compulsive disorder (OCD), they're not the same. They are also different from self-harming rituals, such as cutting.
Experts are still trying to figure this out, but they know your genes are involved. Other things that might play a role include the personality, the amount of stress in your life, childhood trauma, and even the age the person first started showing signs of a BFRB. Body-Focused Repetitive Behaviours (BFRBs) include a category of behaviours that cause damage to one's physical appearance by repeatedly touching one's hair or body. They often go untreated; or "unspoken" as they cause much shame. BFRBs include disorders such as Trichotillomania (hair pulling), Excoriation (skin picking), and Onychophagia (nail biting), among others. The accepted treatments include Habit Reversal Training, CBT and Comprehensive Behavioural Model, which will be explored in this workshop.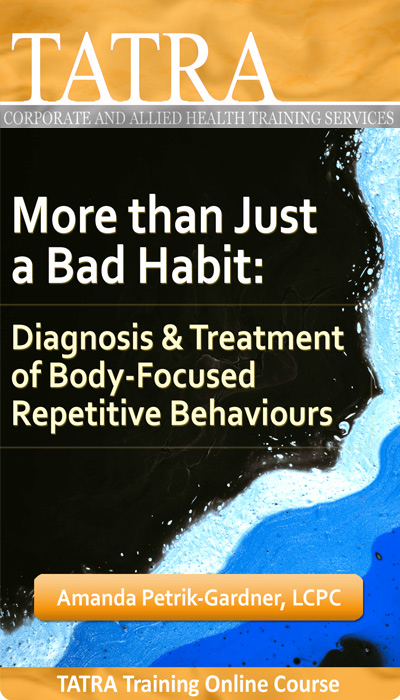 Name at least 5 Body-Focused Repetitive Behaviours.
State the DSM-V diagnostic criteria for Trichotillomania and Excoriation.
Identify the two most widely accepted treatments for BFRBs.
Practice completing a functional analysis pertaining to an individual's BFRB.
Identify 5 habit blockers that can be utilized with hair pulling or skin picking.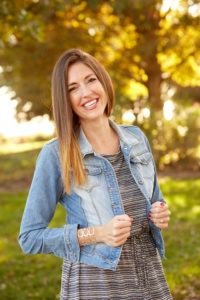 Amanda Petrik-Gardner (LCPC) is an Accredited Clinical Professional Counsellor in the State of Kansas, USA. She specializes in the treatment of Obsessive-Compulsive Disorder, Body-Focused Repetitive Behaviours, Body Focused Repetitive Behaviours like Trichotillomania (hair pulling disorder) and Excoriation (skin picking disorder), Body Dysmorphic Disorder, and other Anxiety Disorders.
Amanda completed her Bachelor of Arts in Psychology from Kansas State University and her Master of Science in Counselling Psychology from the University of Kansas. Amanda is a member of the International OCD Foundation where she completed the Behavioural Therapy Training Institute. She is a member of the TLC Foundation for BFRBs where she completed the Virtual Professional Training Institute. Amanda is also a board member of OCD Kansas, an affiliate of the International OCD Foundation.

This online workshop will give you instant access to 5.5 hours of video content, accessible via streaming on our website, as well as downloadable PowerPoint slides (PDF). You can view the course content in your own time, there is no time limit on access.
The duration of this workshop is 5.5 learning hours. A certificate of completion will be generated upon finishing the course and completing a short evaluation quiz. Please consult your professional organisation/association to confirm whether you are able to claim any CPD points/hours for this online workshop.