22 Apr

Neurocoaching the Mind for Business, Financial, and Life Success: Create the Life you Have Always Wanted, Professionally, Financially, and Personally

0% Complete

0/5 Steps

Neurocoaching the mind uses a simple strategic self-hypnotic process to tune attention to resourceful states. Based in the latest neuroscience findings this practical approach changes motivation, emotions, attitudes, and behaviors.
This exciting new seminar is open to leaders in all walks of life, business owners, therapists, teachers, attorneys, and life coaches who are interested in learning the latest information on how to coach others and yourself to create success in business, money matters, and life.
Leaders in all capacities require the most advanced coach training possible.
 
When you know how to make your brain work, you can improve personal income, business, and lifestyle.
All individuals and businesses suffer down periods. The neural mechanisms of making a comeback bolsters health, achievement and resilience and can buffer against depression and anxiety. In fact, our brain's neural mechanisms fire off significantly more when we visualize, imagine, or participate towards making a comeback. This is best done with a coach or group of like-minded people with proven strategies that work.
By developing your perfect day as a map for the future and a specific plan, in business, finances, and life, participants can develop total clarity, become more influential, and attract the best matches in clients.
We will cover how to identify your core identity and develop a plan to move toward the future you want to create. We will discuss how to increase your business, and how to have more personal fulfillment.
Your Mental States and habits cause you to do and see only that which supports the internal beliefs and behavior patterns you currently have. Our internal neural pathways seek out similar patterns and information that match up in the physical world. The outside world matching our internal image is our comfort zone.
Your internal mental picture—your current conditioned mind—will not see or allow you to behave for too long, in ways that support your desired financial goals unless you change the inside belief and habit first. The same is true for business and life.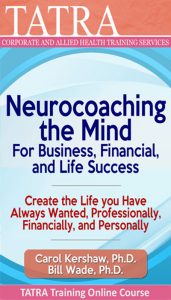 Carol Kershaw, Ph.D. is Co-Director of the Milton H. Erickson Institute of Houston. She is an international trainer, author and psychotherapist running her private practice in Houston, Texas, USA. She is a member of the American Psychological Association, and an Approved Consultant for the American Society of Clinical Hypnosis.
She is board certified with the status of Fellow in EEG Biofeedback and the author of The Couple's Hypnotic Dance and co-author of Brain Change Therapy: Clinical Interventions for Self- Transformation published by WW Norton and The Worry-Free Mind published by Career Press. She has been invited to speak for NASA, and she also presented in Saudi Arabia, Chile, Mexico, Spain, Canada, Italy as well as in the United States and in Australia   
Dr Bill Wade is Co-Director of the Milton H. Erickson Institute of Houston, and is accredited as both a marriage and family therapist and professional counsellor, holding supervisory status with both capacities.
He is a Clinical Fellow with the American Association for Marriage and Family Therapy and is a member and Approved Consultant with the American Society of Clinical Hypnosis. Dr Wade is co-author of Brain Change Therapy: Clinical Interventions for Self-Transformation, published by WW Norton and The Worry-Free Mind, published by Career Press.
He is a long-time student of meditation and has taught at several Buddhist temples. He has presented workshops in Spain, Italy, and across the United States. He has been utilizing psychotherapy and clinical hypnosis for over 35 years.

This online workshop will give you instant access to 7 hours of video content, accessible via streaming on our website, as well as downloads for supplemental materials. You can view the course content in your own time, there is no time limit on access.
A certificate of completion will be generated upon finishing the course and completing a short evaluation quiz. Please consult your professional organisation/association to confirm whether you are able to claim any CPD points/hours for this online workshop.