13 Jul

Patterns in Abusive Relationships: Codependence and Dependent Personality Disorder

This course reviews what patterns to look for in healthy and in abusive relationships in your clients.
Participants will explore strategies to improve these patterns and prevent clients from falling into destructive relationship dynamics. Through the examination of case studies, practical examples, and scientific evidence-supported best practices, participants will gain practical insights into assisting clients and their families who are dealing with abusive, controlling, and dependent relationships. Research and diagnostic considerations related to Dependent Personality Disorder (DPD) are reviewed. Understanding the different types of relationship styles are discussed in context of helping clients understand their own values and history of relationships. This course will complete an overview of the most common questions to use for clients to be able to help you better directly address the underlying problems by using the therapeutic alliance rather than at its cost. In digestible and simple terms, ways of approaching the subject with their exploring values about relationships through pointed questions will be reviewed as well.
By the end of this course, mental health professionals will have a deeper understanding of patterns in abusive relationships, the impact of codependency, and the diagnostic considerations related to Dependent Personality Disorder. They will be equipped with practical tools and techniques to help clients navigate their relationship challenges and work towards healthier, more fulfilling connections.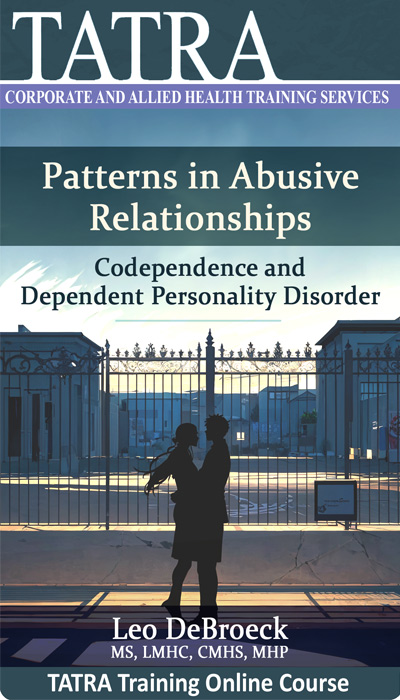 Workshop participants can expect to:
Learn and understand how to examine relationship roles to identify and define unhealthy abusive and codependent patterns
Understand abusive cycles of power and control in relationships.
Identify and define typical behavioral and emotional patterns in healthy relationships.
Learn and apply at least one clinical intervention for addressing feelings and behaviors typical in unhealthy relationships.

Leo DeBroeck is a Mental Health Practitioner and Child Mental Health Specialist in Washington State (USA). He is CBT Plus certified through the University of Washington and Harborview Sexual Assault and Traumatic Stress Centre. He has completed his Masters of Science in Clinical Psychology at Eastern Washington University with his thesis on factors in suicide. He has experience working with children and adolescents at an intensive inpatient program in Spokane, Washington for several years.
Leo works full-time at a community health centre as a therapist with a team of  Marriage and Family Therapists,  Clinical Social Workers, Advanced Registered Nurse Practitioners, and Psychologists. He has worked in several different levels of care for mental health treatment including long-term inpatient care, WISE wraparound intensive services, school-based therapy services, and outpatient clinical settings. He also works as a quarterly faculty lecturer for Eastern Washington University's satellite campus at Bellevue College. He teaches night classes to graduate and undergraduates in foundations of psychotherapy, trauma: assessment, management, and treatment, cognitive and behaviour change, and others. He has published peer-reviewed scientific research on young adults related to suicidality.
He has written several children's therapy books, which are published on Amazon, for use in therapy settings addressing grief, addiction, neglect, abuse, and others. He is the president and founder of Counsellor's Choice Award, LLC which reviews and promotes scientifically validated therapeutic tools and books.

This online workshop will give you instant access to video content, accessible via streaming on our website. This course also includes downloadable PowerPoint slides (optional). You can view the course content in your own time, there is no time limit on access.
The duration of this workshop is 3 learning hours.
A certificate of completion will be generated upon finishing the course and completing a multiple-choice evaluation quiz. Please consult your professional organisation/association to confirm whether you are able to claim any CPD points/hours for this online workshop.