07 Jul

Prolonged Exposure Therapy Skills: A Step-By-Step Approach

Prolonged Exposure (PE) has been established as an evidence-based therapy for the treatment of PTSD, and is a therapeutic approach that has shown some of the strongest clinical outcomes. Watch this hands-on, experiential training, and become fluent and confident in your knowledge on know how to integrate Exposure Therapy skills into your practice to help traumatized clients!
This two-day, intensive online recording introduces attendees to Prolonged Exposure Therapy Approach, and provides step-by-step training in this exposure-based modality. All materials, including instructions for key PE skills, are included with your registration!
The Prolonged Exposure approach is the most effective treatment available for PTSD and other anxiety disorders. The theory behind PE is well supported, and few mental health treatments enjoy more scientific support than this one. Unfortunately, PE is not used by most practitioners, leading clients with PTSD and other anxiety disorders to suffer needlessly while less adequate treatments or only medical approaches are applied to their care.
If you attended Dr Sweeton's other presentations about EMDR, Neuroscience of Trauma or other modalities and topics then this presentation will add to your confidence as a clinician, and will delve into the actual step-by-step PE techniques in more depth. You will leave with a toolbox full of techniques ready to apply the very next day that you see clients. If you want to achieve fast and positive outcomes with your clients then this is a workshop that you will not want to miss!
The target audience for this event includes psychologists, social workers, counselors, MFT's, and other clinical mental health professionals.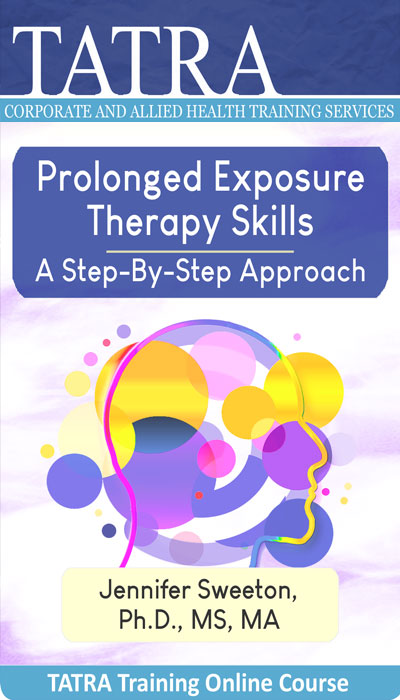 This training will provide participants clinical knowledge and tools to
a). State the DSM-5 PTSD criteria.
b). Describe the Emotional Processing Theory.
c). Name one risk of PE.
d). State at least two areas of the brain that exposure therapy targets.
e). Discuss at least one PTSD assessment tool.
f). Name the five steps of the Trauma Treatment Roadmap.
g). Describe how to identify the "index trauma."
h). State the rationale for in vivo exposure.
i). Name at least two common reactions to trauma.
j). Describe the difference between imaginal and in vivo exposure.
k). Define "hot spot" and discuss its relevance in PE.
l). Name one other therapeutic approach PE may be integrated with.
Course Outline:
Introduction to Prolonged Exposure

PE in a nutshell
PE and the Emotional Processing Theory
Who PE was designed for
Research supporting PE as an evidence-based therapy for PTSD
Risks and contraindications

Diagnosing PTSD and other trauma- or stressor-related disorders

DSM-5 criteria
Cultural considerations

Brain science of trauma and exposure therapy

Amygdala
Hippocampus
Insula
Cortical areas

Assessment/screening tools

Primary Care PTSD Screen
PCL-5
IES-R
CAPS-5

Trauma Treatment Roadmap

Bottom-up vs top-down approaches
Stabilization and grounding
Where PE fits into the roadmap

Preparing for PE

Assessing for readiness
Motivational interviewing techniques
Psychoeducation about trauma processing
Therapeutic alliance

PE: Session 1 step-by-step

Psychoeducation about PE
Trauma interview
Identifying the index trauma
Breathing retraining technique
PE: Session 2 step-by-step

Common reactions to trauma
Psychoeducation about in vivo exposure
In vivo exposure fear hierarchy
Homework assignments related to in vivo exposure

PE: Exposure sessions 3+ step-by-step

Imaginal exposure to the traumatic event: step-by-step
SUDS, symptom monitoring, and stabilization
Managing hot spots
Processing of the exposure
In vivo exposure progress

PE: Final session

Final assessment
Progress review
Relapse prevention
Determining next steps in therapy

PE modifications

Extending session length and/or increasing/decreasing frequency
TBI
Moral injury
Other modifications

Integrating PE with other treatment modalities

EMDR
Cognitive Processing Therapy
Other cognitive behavioural approaches


This online workshop will give you instant access to 8 sessions of video content, accessible via streaming on our website, as well as downloads for supplemental materials. You can view the course content in your own time, there is no time limit on access.
The duration of this workshop is 11 learning hours.
Please click the green 'Mark Complete' button on each module as you progress. A certificate of completion will be generated upon finishing the course and completing a short assessment quiz. If the certificate is not showing, please confirm you have marked all sections as 'Complete'. Please consult your professional organisation/association to confirm whether you are able to claim any CPD points/hours for this online workshop.