20 May

Suicide Risk Assessment

0% Complete

0/17 Steps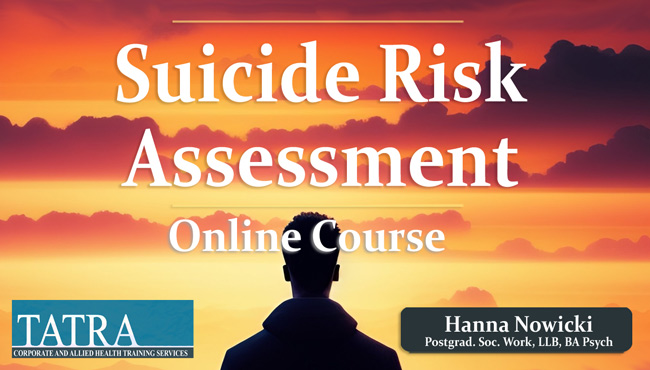 Updated: You will find an update including new statistics released in 2021 as a sub-lesson added to the Statistics chapter.
A bonus lesson on how to communicate with a person at risk has also been added as the last chapter of this course.
New information about Australia's suicide rate has been just released and we have the first snapshot into suicide rates since the COVID-19 pandemic. Learn about the current trends, see how Australia's suicide rate is tracking, and what can be done in response to help save lives.
With suicidal behaviours presenting a major clinical dilemma to health and allied health workers, it is imperative that professionals who have contact with people at risk of suicide know how to respond to such behaviours competently and sensitively. Mastering the skill of Suicide Risk Assessment (SRA) is one of the ways of preventing suicide and allowing intervention at an early stage, before the continuum between the first suicidal thought and the decision to complete suicide has been finalised. Suicide is difficult to predict but it is preventable.
The workshop is intended for all frontline workers who come into contact with people who may be suicidal, including those who are experienced in this area. This includes the workforce of Mental Health Services, Mental Health Rehabilitation NGOs and other NGOs, NDIS, Community Health and Child Protection Services, Correctional Services, Housing and Employment services, Domestic Violence, Services for Homeless, Centrelink, Drug and Alcohol Services, Youth Services, General Practitioners and a wide range of other services.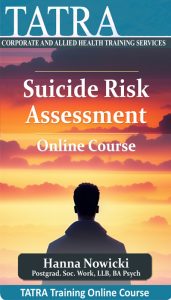 Assessment structure, risk factors, protective factors, warning signs.
Effective interventions in realistic situations where the risk level varies and where there might be systemic obstacles.
Working with suicidal clients with Borderline Personality Disorder.
Working with clients who self-injure.
Working with clients who exhibit ongoing high-risk behaviours but where the suicidal intent is not present.
Effectively conducting Mental State Examination.
Designing effective referrals to other mental health services.
Clinical, legal and ethical issues for practitioners, managers and organisations.
Management and treatment issues.


This online workshop will give you instant access to the course video content (6 learning hours duration, including exercises and assessment), accessible via streaming on our website, as well as downloads for supplemental materials. You can view the course content in your own time, there is no time limit on access.
Please click the green 'Mark Complete' button on each module as you progress.
A certificate of completion will be generated upon finishing the course and completing a short assessment quiz. If the certificate is not showing, please confirm you have marked all sections as 'Complete'. Please consult your professional organisation/association to confirm whether you are able to claim any CPD points/hours for this online workshop.