17 Sep

Surviving The Emotional Rollercoaster: Using DBT To Help Clients With Mood And Anxiety Disorders Manage Their Emotions

In this thorough and engaging workshop, Sheri Van Dijk breaks new ground by adapting DBT for people living with bipolar disorder, depression, anxiety disorders and other problems in managing emotions. This workshop provides clinicians with real-life day-to-day tools you will be able to teach to clients struggling with mental health issues and other emotional and relational problems. You will be able to help your clients find order and peace in their lives again, and to make changes that are long-lasting!
DBT is a treatment originally designed to treat clients with BPD, but is increasingly being used to help clients with general problems in regulating emotions. Whether related to a mental illness such as bipolar disorder, depression or anxiety; or just to difficulties managing emotions that lead to problems with anger, relationships, and low self-esteem, an inability to manage emotions can lead to chaos and misery.
This workshop delves more deeply into the DBT skills – broadening your understanding of some of the most important skills to help clients manage emotions and your ability to teach these to clients. The focus will be on providing you with the strategies and the tools you can use the very next day in your work with your clients. You will learn how you can assist your clients to integrate their current coping skills with new and effective DBT skills and techniques for living well with bipolar disorder, depression, or anxiety disorders, as well as with other problems such as managing anger, chronic shame, and low self-esteem.
The four DBT skills modules – mindfulness, distress tolerance, emotion regulation, and interpersonal effectiveness – will help your clients manage the emotional ups and downs and minimize the frequency and intensity of depressive and manic episodes or anxiety attacks. By using these techniques in conjunction with medication and professional care, your clients will soon experience relief from symptoms and come to enjoy the calm and confident feeling of being more in control.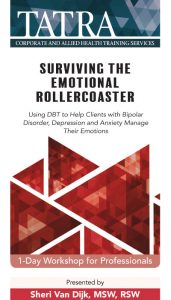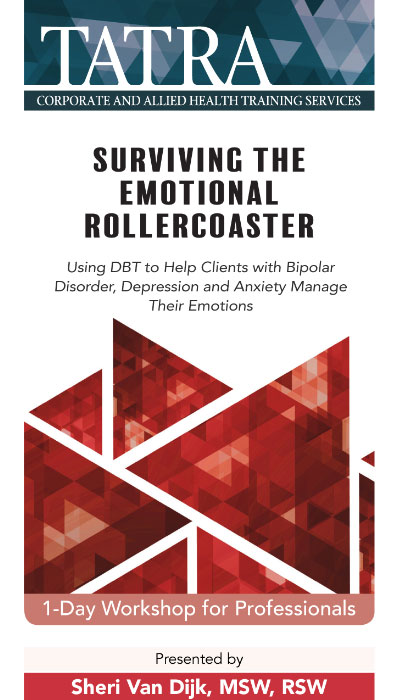 Improve treatment outcomes through neuroscience, and evidence-based treatment
Learn which traditional psychotherapy methods are effective and which are counter-therapeutic
Discover how to talk to clients about their brain
Apply brain-based proven treatments for Mood and Anxiety Disorders
Develop Mental Connections That Promote Good Habits and Shut Off Those that Support Bad Habits
Assist Your Clients to Become Calm and Energised by Making New Connections Between the Neurons
Teach your clients mindfulness and acceptance skills
Help your clients cope with depressive and manic episodes or anxiety and other emotions in healthy ways
Equip your client with tools to manage intense emotions and impulsive urges
Teach skills to help clients maintain relationships with friends and family members
Help clients more effectively manage their own health and state of mind

Sheri Van Dijk, MSW, RSW, is the author of seven DBT books, including The Dialectical Behaviour Therapy Skills Workbook for Bipolar Disorder, Calming the Emotional Storm, and Don't Let Your Emotions Run Your Life for Teens, the focus of which is to teach clients how to use mindfulness practice and DBT skills to help them live emotionally healthier lives. She has also written DBT Made Simple, the aim of which was to make DBT more accessible to therapists working with diagnoses other than BPD; and she has been presenting extensively in Canada and abroad with this goal as well. Sheri is the winner of the R.O. Jones award for her research on using DBT skills with bipolar disorder, presented at the Canadian Psychiatric Association Conference in September, 2010. Sheri is an experienced presenter who has been training professionals extensively in Canada and the USA over the last nine years. Her training is fast-paced, full of examples from her clinical practice, and demonstrates the use of self she describes as essential to working with clients in DBT. She draws from her clinical experience with the clients she works with in both her private practice and at a community hospital in Ontario, Canada, where she has been providing DBT-informed therapy for clients with mixed diagnosis in individual and group therapy.

This online workshop will give you instant access to 6 hours of video content, accessible via streaming on our website. You can view the course content in your own time, there is no time limit on access.
A certificate of completion will be generated upon finishing the course and completing a short evaluation quiz. Please consult your professional organisation/association to confirm whether you are able to claim any CPD points/hours for this online workshop.