08 Nov

The Burnout Solution: Professional Endurance And Emotional Intelligence

0% Complete

0/5 Steps

Every mental health clinician experiences signs and symptoms of burnout at least once in their career.  However, most do nothing about it until their career hangs in the balance.  Gaining better understanding and learning the tools necessary to lessen burnout is critical to achieving a long and satisfying career.  In this engaging seminar, Daniel J. Fox, Ph.D., will teach you how to identify burnout, learn where you stand along this risky path and how to reengage with your clients and professional environment.  It can be done, and it starts with the techniques you will learn in this seminar!
In this engaging seminar, Daniel J. Fox, Ph.D., will teach you how to identify burnout and how to re-engage with your clients and professional environment.  He will examine the advantages of building professional alliances, strengthening your determination and honing your self-protective skills through the use of emotional intelligence in your personal and professional life.
Explore:
Your body's response to burnout
Neuroscience of burnout
Treatment techniques
Techniques to move you and your clients to a healthier end
Dr. Fox will examine the benefits of restorative, emotionally intelligent relationships in the workplace and online, incorporating social media, like Facebook, Twitter, or LinkedIn, to improve outcomes and your personal support network. By understanding the potential of emotional intelligence and using techniques like emotional mapping and positive feedback loops enhance your growth as a professional and apply these powerful tools to benefit you and your clients.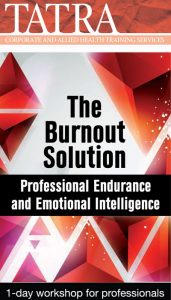 Create a "burnout – free" organisation; Learn how organisations can prevent burnout and how they can promote emotional intelligence amongst the employees.
Lessen burnout using emotional intelligence
Develop greater understanding of your body and brain function when under  prolonged stress
Increase or reignite your love for work and engaging with your clients.
Strengthen your support system within your professional network and buffer stress and burnout.
Enhance understanding and application of Jon Kabatt-Zinn's wellness techniques to decrease burnout.
Gain greater understanding and application of Marslach's burnout prevention within organisations.
Learn the skills necessary to speed up burnout recovery and self-care techniques you can use today, tonight, and from now on!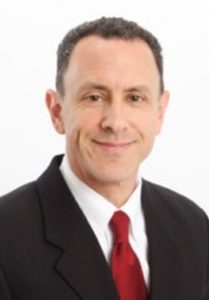 Daniel J. Fox, Ph.D., is a clinical psychologist, international speaker, and award winning author. He has been specializing in the treatment and assessment of individuals with personality disorders for over 15 years in the state and federal prison system, universities, and in private practice. He is the author of The Clinician's Guide to Diagnosis and Treatment of Personality Disorders and the award winning Antisocial, Borderline, Narcissistic and Histrionic Workbook: Treatment Strategies for Cluster B Personality Disorders. He has published several articles in these areas. Dr. Fox has been teaching and supervising students for over 15 years at various universities across the United States, some of which include West Virginia University, Texas A&M University, University of Houston, Sam Houston State University, and Florida State University. He is currently a staff psychologist in the federal prison system, Adjunct Assistant Professor at University of Houston, as well as maintaining a private practice that specializes in the assessment and treatment of individuals with complex psychopathology and personality disorders.
Dr. Fox has given numerous workshops and seminars on ethics and personality disorders, personality disorders and crime, treatment solutions for treating clients along the antisocial, borderline, narcissistic, and histrionic personality spectrum, emotional intelligence, managing mental health within the prison system, and others. Dr. Fox maintains a website of various treatment interventions focused on working with and attenuating the symptomatology related to individuals along the antisocial, borderline, narcissistic, and histrionic personality spectrum.

This online workshop will give you instant access to 4 hours of video content, accessible via streaming on our website, as well as downloadable supporting materials. You can view the course content in your own time, there is no time limit on access.
A certificate of completion will be generated upon finishing the course and completing a short evaluation quiz. Please consult your professional organisation/association to confirm whether you are able to claim any CPD points/hours for this online workshop.