26 Sep

The Mindfulness Combo: Innovative Mindfulness Techniques For Emotional Eating, Weight Loss, Smoking Cessation, Substance Misuse, Breaking Problematic Habits, Impulse Control, Anxiety And Depression

Mindfulness—once an ancient practice honed in Buddhist monasteries—is now a mainstream, evidence-based, secular intervention employed by trained health and mental health professionals worldwide. Research continues to show that mindfulness is an effective treatment for anxiety, depression, stress, pain relief, and many other ailments other such as burnout.  But, Mindfulness can also be effectively used to help clients with other serious issues like: emotional eating and weight gain, smoking, insomnia, impulsive behaviours, and problematic habit patterns.
This unique "Mindfulness Combo" workshop will take your current understanding of Mindfulness to the next level.  You will be able to broaden your understanding of mindfulness know-how techniques to assist clients, not only in achieving mood regulation or inner peace, but also in helping them to control food- and drug-related cravings, facilitate the onset of sleep, break away from self-pathologizing narratives, and to facilitate long-term change-process compliance.
This is a fast-paced, highly experiential workshop with hands-on exercises that you will be able to implement in your practice the very next day.
Dr. Somov will present a number of practical techniques of awareness-building and habit-modifying practices for dealing with mindless eating, emotional eating, smoking cessation, drug and alcohol lapse prevention, difficulty falling asleep, chronic worry and dysthymia (low-grade depression).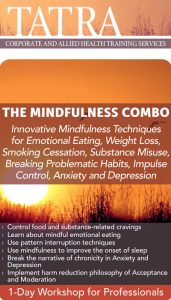 Join Dr. Pavel Somov and learn an original, eclectic mix of innovative mindfulness technologies:
Dots & Spaces – also known as "Riverbank Attitude," a metacognitive distancing technique designed to assist with impulse- and craving-control presentations; also useful in cultivating a stress-resilient identity for stress management and trauma inoculation purposes.
Change Equation – an original clinical map for facilitating a mindfulness-based process of change that emphasizes Freedom to Change as a means to cultivating the so-called "operational freedom"
Choice Awareness Training – a pattern interruption approach designed to assist with awareness-building and habit-modifying as part of mindfulness-based habit modification
Middle Way/Harm Reduction – a clinical philosophy of acceptance and moderation, an attitude that is essential to a non-perfectionistic approach to self-change and recovery
Narrative Transcendence – a non-discursive/non-labeling approach designed to cultivate "metacognitive skepticism" so as to challenge problematic narratives, symptom identity, and maladaptive filtering

Pavel Somov, Ph.D., is a clinical psychologist, presenter and author. He holds a PhD from State University of New York at Buffalo, USA, and is a graduate of the University of Central Arkansas, USA, and Moscow State Pedagogical University, Russia. Dr Somov is on the Advisory Board for the Mindfulness Project (London, UK). Over the last several years he has been conducting professional trainings in US on the topics of mindful eating, anger management and perfectionism. Dr Somov grew up in Moscow, Russia and, after his service in the Soviet military, immigrated to the US in 1991.
He is the author of 7 mindfulness-based self-help books. His books include the bestselling: "Eating the Moment: 141 Mindful Practices to Overcome Overeating One Meal at a Time", "Anger Management Jumpstart: A 4-Session Mindfulness Path to Compassion and Change", "Present Perfect: A Mindfulness Approach to Letting Go of Perfectionism and the Need for Control", "The Lotus Effect: Shedding Suffering and Rediscovering Your Essential Self", "The Smoke-Free Smoke Break: Stop Smoking Now With Mindfulness and Acceptance", "Reinventing the Meal", "Mindful Emotional Eating: Mindfulness Skills to Control Cravings, Eat in Moderation and Optimize Coping". His books have been translated into Chinese, Dutch & Portuguese. He has also published peer-reviewed articles on the use of Psychodrama and Logotherapy with substance use populations. Dr Somov has been an avid blogger for such blogging platforms as Huffington Post, PsychCentral, Intent, Red Room, Medium and SuccessStory. He has worked in a variety of clinical settings – private practice, correctional setting / county jail, mental health community centres, multidisciplinary behavioural medicine teams, Veterans, Psychiatric and Cancer hospital's, pain clinics, university counselling centre and in family medical practice.

This online workshop will give you instant access to 5 hours of video content, accessible via streaming on our website, as well as downloads for PowerPoint slides and supplemental materials. You can view the course content in your own time, there is no time limit on access.
A certificate of completion will be generated upon finishing the course and completing a short evaluation quiz. Please consult your professional organisation/association to confirm whether you are able to claim any CPD points/hours for this online workshop.