13 Apr

Therapeutic Applications of Neuroscience, Psychoneuroimmunology and Epigenetics

This seminar presents the sea change occurring in psychotherapy. Just as the field of medicine has been recently transformed by Functional and Integrative Medicine, psychotherapy in the 21st Century is moving toward integration. Given that psychotherapy will increasingly address health factors, with epigenetics and psychoneuroimmunology at the forefront, this integration brings those fields of research that had previously been compartmentalized into a robust vision of psychotherapy. Therapeutic Applications of Neuroscience, Psychoneuroimmunology, and Epigenetics applies this approach to psychological problems such as anxiety and depression.
Recently a wide variety of feedback loops have been identified that when disrupted contribute to poor health and psychological disorders. This seminar addresses this challenge by synthesizing the groundbreaking research in psychoneuroimmunology and epigenetics, combining them with the neuroscience of emotion, interpersonal, cognitive research, with psychotherapeutic approaches to offer an integrated vision of psychotherapy.
We begin by addressing the term "mind" because, though we use the term all the time, we had not agreed what it is. Now we know through research in neuroscience and psychology that the mind is not one thing but is composed of ongoing feedback between the mental operating networks. Our minds contribute to "self"-organization as we co-evolve within families and interpersonal interactions. What we encounter and how we take care of ourselves can change our brains, immune systems, and even turn on or off genes, resulting in mental health or ill health. Inflammation and autoimmune disorders are strongly associated with depression and anxiety. Therefore, the seminar offers a primer on the fields of psychoneuroimmunology and epigenetics, combining it with the neuroscience of emotional, interpersonal, cognitive, dynamics, with psychotherapeutic approaches to offer an integrated vision of psychotherapy.
We explore the disrupted neural, immune system, and gene expression feedback loops to make sense of the causal relationships between stress, depression, and anxiety. The interaction between all these factors has been illuminated studies examining the effects of life style factors on the incidence of health and psychological problems. There are significant relationships between disruptions in immune system function, stress, insecure attachment, anxiety, depression, poor nutrition, poor quality sleep, physical inactivity, and neurophysiological dysregulation. We can now understand how the immune system, diet, brain structure, and even gut bacteria profoundly affect mental health through leaky gut syndrome and the inflammatory spiral. This complex spectrum of health conditions effects millions of people who seek psychotherapy.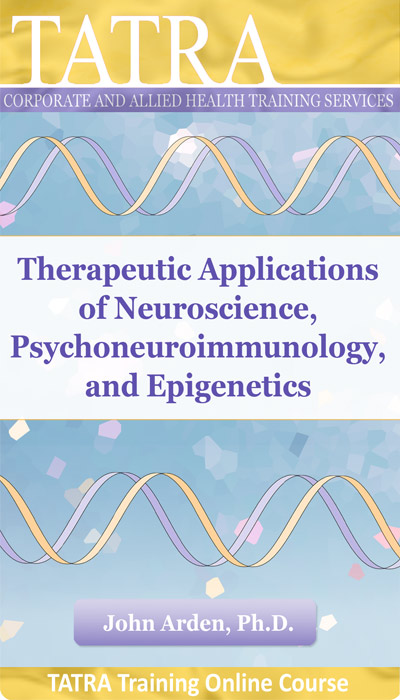 Contrast: The overly compartmental field of psychotherapy of the 20th Century to the integrative vision of psychotherapy in the 21st Century
Distinguish: Between various health conditions and psychological disorders and their overlap
Explain: Explain how poor health contributes to poor mental health as well as visa versa
Analyze: How an overactive immune system contributes to depression and anxiety
Evaluate: How adverse childhood experiences contributes to long-term chronic health and mental health conditions and what to do about it.
Plan: Where to encourage lifestyle changes that improve health and mental health
Measure: The effect of poor sleep, diet, and lack of exercise contributions to changes in mental health
Choose: What psychotherapeutic intervention to use for various psychological conditions
Assess: The effects of various psychotherapeutic interventions
Select: Brain-based and evidence-based approaches with the most practical outcomes
Formulate: A treatment plan most appropriate for the individual based on her/his ethnicity, socio-economic position, and LGBTQ identification.

John Arden, PhD, ABPP, is a psychologist specializing in neuropsychology. He is widely known as an entertaining speaker and is talented at integrating diverse fields.   Author of 15 books, including Brain2Brain, The Brain Bible, Rewire Your Brain, Brain-Based Therapy with Adults and Brain-Based Therapy with Children and Adolescents. His new book is entitled Mind-Brain-Gene: Toward the Integration of Psychotherapy.
He presents workshops on brain-based therapy internationally and in the United States. Dr Arden has written books on anxiety (The Brain-Based Anxiety Workbook), OCD (The Brain-Based OCD Workbook) and PTSD (Conquering Post-Traumatic Stress Disorder, with Dr. Victoria Beckner) as well Improving Your Memory for Dummies; Consciousness, Dreams, and Self: A Transdisciplinary Approach (winner of the Choice 1997 Outstanding Academic Book Award); and Science, Theology, and Consciousness.   Dr Arden's study of neuropsychology has inspired him to integrate neuroscience and psychotherapy, synthesizing the biological and psychological aspects into a new vision for psychotherapy: Mind-Brain-Gene: Toward the Integration of Psychotherapy.
His work incorporates what is currently known about the brain and its capacities, including neuroplasticity and neurogenesis, with psychotherapy research, mindfulness, nutritional neuroscience and social intelligence. He has presented in all US States and in 30 countries around the world.

This online workshop will give you instant access to 9 sessions of video content, accessible via streaming on our website, as well as downloadable PowerPoint slides. You can view the course content in your own time, there is no time limit on access.
The duration of this workshop is 12 learning hours. This course includes multiple-choice assessment quizzes for each session. A certificate of completion will be generated upon finishing the course. Please consult your professional organisation/association to confirm whether you are able to claim any CPD points/hours for this online workshop.