01 Jun

Transitioning to Telehealth and Online Therapy

Therapy sessions are rapidly moving online, and there is no escape from this permanent shift in how we work as psychologists, counsellors, psychotherapists, coaches – anyone who is providing services online.
Even after the pandemic is over, we're not going back. COVID-19 will likely be a part of our "new normal," the virus will likely circulate from season to season well into the future, and we must find ways to adapt our practices for the long run.
Join Renee McDonald in this exciting new online course and see how she explains the use of Telehealth in the modern world of digital therapy.  Renee will share with you her extensive experience in this area which will assist you in building a foundation of knowledge of the relevant concepts and methods as you create an online therapeutic space in your own practice with confidence and joy.
This training will provide information about:
How to provide professional services across all online and technology-assisted therapy
What therapists can do to provide high quality services online
The legalities surrounding online therapy
Working regionally, rurally and remotely with Telehealth
The anxieties clients may face when they seek online therapy
The needs of different generations: Baby Boomers, Generation X, Y and Millennials, and how online therapy may assist them.
You will no longer feel that you are 'flying blind' in our highly digitalised therapeutic online world! Instead, you will have the confidence to forge ahead with your online practice.
The key aspects and goals you'll learn will be:
How to practice with individuals, families and groups via telehealth
Tips to grow, maintain and build rapport with clients
Multiple ways to overcome challenges to distance and technology
You'll leave with clear guidelines and interventions, with new confidence and competency in navigating this new telehealth world! And as an extra bonus, this course includes an extensive handbook and a set of contracts you can use in your own online therapy practice the very next day!
Learn how to:
Confidently set up the technology and tools you need to start providing telehealth services
Successfully adapt in-room practices to the telehealth space!
Protect clients' privacy
Correctly handle billing and recordkeeping
Make sure you get paid for your telehealth services!
Protect yourself from telehealth mistakes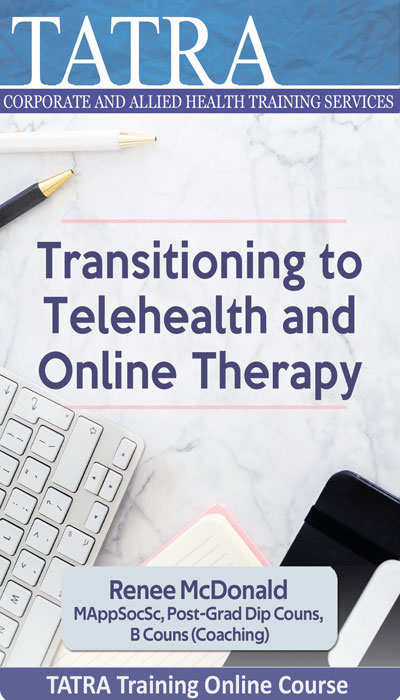 PART 1 – Setting the Scene
What is online therapy?
What is Telehealth?
What's the difference in the types of practice when working virtually.
What does it mean to transition?
Working in a Post-Covid-19 world
What's going on with Zoom?
What platforms are safe and secure?
What are the necessary legal requirements when working online.
Even if you've "practised online", what more you may still be missing.
The importance of training and where international standards come in.
What are the limitations when working online.
Self-care, working from home and our existential dilemmas when on lockdown.
PART 2 – The importance of geography – providing services across the local, regional & global divide
Online disinhibition – defining what it is
Presence, essence and the space between – what is it and how is it relevant to Telehealth practice?
Other products of online practice
Globalisation and its importance in the online / telehealth space
Rurally, regionally and remotely working online
The challenge of empathy online
Trends – of the online working space
Finding new clients online
Case studies
OAIC Australian Government notifiable data breaches – and what does that mean?
PART 3 – Solutions to providing professional online therapeutic services
Booking and calendar systems
Payment gateways
Tips, tricks and pitfalls of using online therapy.
PART 4 – Are you ready for online work?
Being ready for online work
Online magic
Looking at online overwhelm
Examples of online services that you can provide
Boundaries
Counselling vs Coaching
Privacy and confidentiality
Keeping clients and yourself safe online
Backup plans
  
PART 5 – Boundaries online
Flexibility and boundaries
Benefits and challenges of online work
Some of the latest research and further learning, regarding online work
Using Zoom
Grounding
Couple and Family Practice
E-commerce legislation
HIPAA compliance
GDPR compliance
Insurance
Gen Y & Millennials
Australian Government legislation and regulations for online work.
Mandatory reporting and how it applies to the online space.
Examples given of further information and support beyond this course.
10-Point Plan for DIY Telehealth / Online Therapy framework set up


This online workshop will give you instant access to 5 sessions of video content (2.5 hours), accessible via streaming on our website, as well as downloadable PowerPoint slides (PDF).
You can view the course content in your own time, there is no time limit on access.
The duration of this workshop is 2.5 learning hours.  A certificate of completion will be generated upon finishing the course and completing a short multiple-choice assessment test. Please consult your professional organisation/association to confirm whether you are able to claim any CPD points/hours for this online workshop.