30 Aug

Treating Complex Trauma with Trauma-Informed Internal Family Systems

What is Trauma-informed Internal Family Systems? It's therapy that embraces the ground-breaking advances of IFS, but adds a deep understanding of the traumatized brain and integrates trauma-informed interventions for clients with Complex Trauma. It utilizes key interventions from neurobiology, Polyvagal Theory, Attachment Theory, Sensorimotor, and  EMDR—to help complex clients feel safer, and begin to access Self in small, manageable increments. It emphasizes the importance of the therapist's Self and working with therapist parts throughout the treatment. If you have clients who have trouble doing IFS, this may be the course for you.
This course will cover IFS-informed ways to assess, stabilize reactive neurobiology, address early attachment rupture, as well as parts mapping, meeting place for parts, and therapist parts.
The course is designed to bridge the gap between a working knowledge of IFS and working with Complex Trauma in your office. In six lectures, you will learn an accelerated curriculum infused with an awareness of Self and therapist parts, including assessment, attachment repair, working with extreme protectors, and the unique challenges of preverbal parts. Interventions from polyvagal theory, attachment theory, and Sensorimotor, will be integrated into the IFS framework. The course will include lecture and video demonstrations.
This course assumes you have a working knowledge of IFS. And, though the topic might sound heavy, rest assured, the workshop will be fun!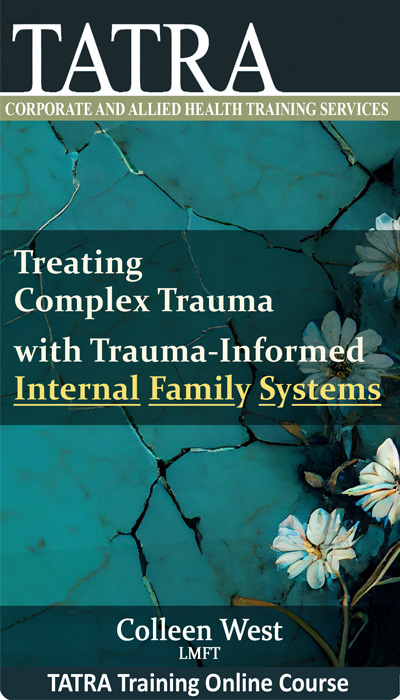 Lecture 1
Summarize stabilization in trauma-informed IFS.
Describe dissociation on a spectrum from simple PTSD to complex PTSD.
Describe the hard & soft signs of dissociation.
Summarize the importance of the therapy frame for complex clients.
Lecture 2
Summarize the lived experience of trauma.
Define procedural learning.
Apply autonomic defenses to a difficult client.
Summarize two ways to bring sessions to a close safely.
Lecture 3
Practice working with therapist parts to find Self.
Summarize attachment repair strategies in the clinical hour.
Define implicit direct access, and why it is helpful with complex clients.
Describe three ways to help complex clients become oriented to parts language and perspectives.
Lecture 4
Describe two types of parts mapping and why they are important.
Name three easy ways to externalize parts.
Lecture 5
Describe how suicidal parts are trying to help the client.
Summarize how The Kitchen Table intervention works and why it is helpful for complex clients.
Lecture 6
Describe why legacy burdens may be a good first step with preverbal parts.
Apply what you have learned in this course to one of your complex clients.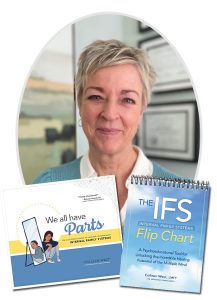 Colleen West
Colleen is an IFS Certified Therapist and Approved Consultant with twenty years of training and experience resolving simple and complex trauma, and more than a decade training clinicians.
She studied with Richard Schwartz, Philip Manfield, Janina Fisher, Chris Burris, Cece Sykes, and she follows writings of Frank Anderson, Martha Sweezy, Bessel van der Kolk, Patricia Papernow, Michelle Glass, and so many others. She integrates Internal Family Systems, attachment theory, Sensorimotor, and EMDR therapies into her trainings and consultations.
She's a graduate of the University of California San Diego in Political Science, and she holds a Master's Degree in Counseling Psychology from Holy Names University, Oakland, CA. She also is a Licenced Marriage & Family Therapist (MFC40568)
She is the author of We All Have Parts: An Illustrated Guide to Healing Trauma with IFS, and The IFS Flip Chart: A Psychoeducational Tool for Unlocking the Incredible Healing Potential of the Multiple Mind. As an IFS Consultant, she devotes herself to training and mentoring psychotherapists, and writing.

This online workshop will give you instant access to the course video content (approx. 6 hours duration), accessible via streaming on our website, as well as downloads for supplemental materials (PowerPoint slides). You can view the course content in your own time, there is no time limit on access.
Please click the green 'Mark Complete' button on each module as you progress. You can access the sessions in any order and go back to previous sessions if required.
A certificate of completion will be generated upon finishing the course and completing a short assessment quiz. If the certificate is not showing, please confirm you have marked all sections as 'Complete'. Please consult your professional organisation/association to confirm whether you are able to claim any CPD points/hours for this online workshop.