31 Jan

Understanding and Treating the Targets of Workplace Bullying

Workplace bullying and harassment are workplace factors that can cause significant psychological harm and injury, and negatively affect workplace engagement, and productivity. About one in three people are bullied at work; in some industries, such as health, welfare, education and government and semi –government services, the figure is far higher, ranging from 25%, 50% to 97% (Duncan and Riley).  Workplace bullying can attack anyone, in any career, at any level, within any organization, at any time.
Research suggest that current approaches to preventing bullying and harassment in Australian workplaces are having little effect. Self-reported bullying in Australia has decreased slightly in Australia but is still very high by international standards. Sexual harassment rates have increased and harassment by gender and race have increased significantly.
With the high prevalence of workplace bullying, it is very likely that you will have clients coming for help and therapy, in great numbers.  Watch and participate in this fascinating and beautifully presented online course and equip yourself with practical strategies to empower all clients and/or employees to care for themselves when faced with bullying behaviours.
You will be shown how key strategies based on the development of social skills can equip clients to fight even the most persistent of bullies. You will be able to help your clients build the necessary self-help strategies and resilience to effectively tackle the different stages of workplace bullying.  This course will increase your awareness but it will also provide you with strategies.
Evelyn Field's stellar contribution to the field of workplace bullying is based in the research, literature and her practice as counsellor and therapist.  She also draws from her own hard experience, eminently practical lessons for how to respond to the problem in ways that actually make things better.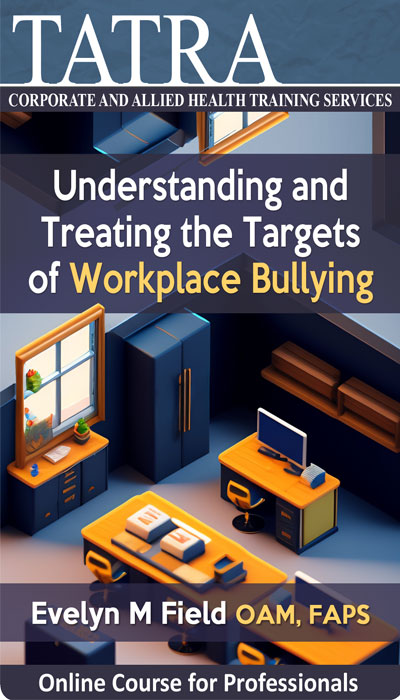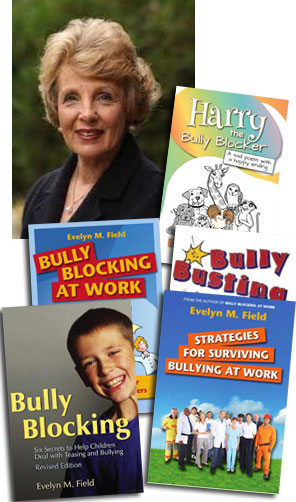 Evelyn Field is a practising clinical psychologist, professional speaker, media commentator and author with extensive clinical and personal experience in dealing with the trauma of loss and abuse. She has been helping school and workplace bullying victims for over 30 years, as well as training and writing about both workplace and school bullying. She regularly presents at international conferences and workshops.
She is a bestselling author of many books on workplace bullying including Strategies For Surviving Bullying at Work and Bully Blocking at Work. Her book on school bullying, Bully Blocking, has been published in five languages. Evelyn's first book on workplace bullying, Bully Blocking at Work, was published in 2010 and has received international praise. She was awarded her Order of Australia for her initiatives for school and workplace bullying.
In addition to providing therapy and coaching in Melbourne, interstate and internationally, Evelyn provides training for schools, organizations and mental health professionals. This training incorporates her simple six-step social and emotional resilience model to empower children and adults to relate more effectively. It has been presented in New Zealand, Belgium, Spain, USA, Vietnam, Canada, Norway, Copenhagen, Wales, Italy and Israel. Evelyn lives in Melbourne, Australia.

This online training program will give you instant access to video and other content, accessible via streaming on our website. You can view the course content in your own time, there is no time limit on access.
The duration of this course is 4 learning hours. You can view the course content at your own pace, there is no time limit on access.
Please click the "Mark Complete" button on each module as you progress through the course. A certificate of completion will be generated upon finishing the course and completing a short multiple-choice evaluation quiz. Please consult your professional organisation/association to confirm whether you are able to claim any CPD points/hours for this online training program.