22 Feb

Worry, Panic and Phobia: Evidence-Based Approaches to Alleviate Anxiety

Worry is transdiagnostic and is frequently the seed of depressive disorders and more severe anxiety disorders. Therefore understanding the nature of worry and how to treat it is paramount for all mental health care providers.
People often worry their way into a panicked state, which is not the same as suffering from a true panic attack; likewise the treatment approaches are different. Anxiolytics, usually benzodiazepines, negatively reinforce anxiety and thereby potentiate the fear of panic attacks, while only treating the symptoms. These are among the reasons that cognitive-behavioral approaches are literally twice as effective as medication in treating panic. Panic attacks are common amongst people who have phobias, therefore it is sometimes necessary to address panic attacks when treating phobias.
This seminar includes demonstrations, film clips, case examples and humor to teach you evidence-based approaches to help all of your clients worry and stress less. You will learn more about the nature of panic attacks, worry, and anxiety as well as the concomitant treatment approaches to alleviate generalized anxiety disorder, panic disorder and specific phobia.

This training will provide participants clinical knowledge and tools to:
State at least four reasons why it is important to assess and potentially treat worry in all clients.
Communicate the two most important facts about the nature of worry, how they guide treatment for generalized anxiety disorder, and learn several evidence-based techniques to alleviate worry and anxiety.
Analyze and understand operant conditioning, why many professionals misunderstand it, and why abating negative reinforcement is crucial in the treatment of most anxiety disorders.
Name and learn to practice seven types of exposure therapy.
Learn and understand how to put clients and patients at ease that while there is a physiological rationale for their panic attacks, they are not caused by a medical problem or genetics.
Learn and practice how to cure panic attacks in 90% of clients with mindful acceptance and interoceptive exposure.
Learn and acquire skills to treat phobias.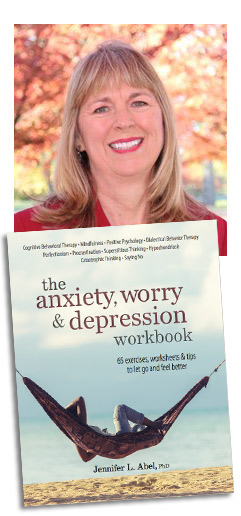 Dr. Jennifer L. Abel is an international speaker who has conducted over 300 workshops and seminars for mental health professionals and more recently keynote addresses to appeal to the general public and corporations.
She was trained as a scientist-practitioner specializing in cognitive-behavioral treatment (CBT) and 3rd wave CBT for anxiety disorders in her clinical practice of over 20 years. She served as the Associate Director of the Stress and Anxiety Disorders Institute at Penn State prior to opening a private practice in St Louis, Missouri (USA).
She has published many articles in professional journals on her work in anxiety and behavioral medicine. Dr. Abel has published three books; her first, Active Relaxation, was published in 2010 and received outstanding reviews from mental health care professionals and readers alike. Her most recent book is a best seller: The Anxiety, Worry, and Depression Workbook. The two therapeutic card decks she authored and co-authored are also very popular.

This online workshop will give you instant access to 4 sessions of video content, accessible on-demand via streaming on our website, as well as downloadable powerpoint slides. You can view the course content in your own time, there is no time limit on access. The duration of this course is 6 learning hours.
A certificate of completion will be generated upon finishing the course and completing a short evaluation quiz. Please consult your professional organisation/association to confirm whether you are able to claim any CPD points/hours for this online workshop.