20 Oct

The Art & Science of Relaxation Therapy: Reduce Anxiety, Depression, Pain, Sleep Disorders, Trauma and Inflammation

We live in a world that makes it hard to truly unwind. Demands of daily life are intense and never-ending in these fast-pace, uncertain times. Research shows that stress, anxiety and depression reduce our natural ability to relax. Ironically, focusing on relaxation as yet another high-pressure goal (I must relax, I must relax, I must relax) can increase our distress levels. In a world that awards busyness and constant action, relaxation is rarely valued, taught or encouraged. Saying 'just relax' usually increases a person's anxiety. Telling a client to 'take a deep breath in' is counterproductive as often they don't know how to breathe deeply and correctly.
However, Relaxation Therapy is evidence-based, non-invasive, non-pharmacological, easy and portable. It reduces distress, offers a self-help coping strategy and improves mental and physical health.
The more we relax, the better we can cope with times of distress.  Relaxation is therapeutic, when it is enjoyed, performed correctly and practiced regularly.  The benefits of relaxation are evidence-based and slowly becoming integrated into our healthcare system.
Psychoneuroimmunology (PNI) studies interactions between nervous, endocrine and immune systems and identifies links between the mind and body. PNI demonstrates how Relaxation Therapy can decrease pain perception, increase lymphocyte function, reduce anxiety and depression, result in shorter post-surgical hospital stays, alleviate PTSD symptoms and much more! This online training briefly describes why mind and body are best treated together.
Join Dr Judy Lovas as she teaches evidence-based Relaxation Therapy and translates complex science. Judy makes it easy for you to understand evidence of neural, endocrine and immune responses to relaxation:
Learn how to effectively implement diaphragmatic breathing and visualisation.
Explain to your clients how coping strategies for chronic conditions such as anxiety, depression, pain, sleep disorders and trauma really work.
Equip yourself with practical knowledge and research in relaxation techniques that you can practice and use after completing this course.
Learn fundamentals of relaxation as coping skills that your clients can use daily.
Learn how to short circuits our (dis)stress pathways to reduce production of stress hormones, encourage the release of calming neurotransmitters, enhance immune responses and oxygenate cells for better cellular functioning.
This unique and dynamic online training enables you to practice and teach simple Relaxation Techniques recognised by the Australian Department of Health as Focussed Psychological Strategies (FPS). Relaxation techniques are approved psychoeducational approaches in aged care and other settings.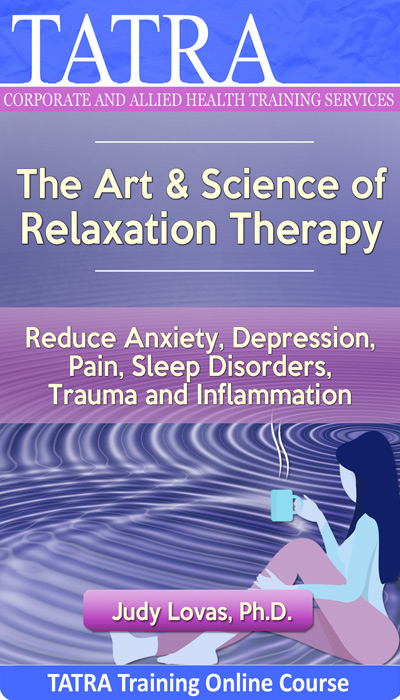 Participants will learn:
Psychological and physiological pathways of Stress
Psychological and physiological pathways of Relaxation
How to practice Deep Diaphragmatic Breathing (DDB)
How to practice Guided Imagery (GI)
How to apply DDB and GI clinically to reduce chronic conditions
Leading Psychoneuroimmunology research and evidence that support benefits of relaxation therapy

Judy Lovas, PhD, specialises in psychological and physical outcomes of Evidence-based Relaxation Therapy. Judy lectures in Psychology at Australian College of Physical Education and Cellular Health, Psychoneuroimmunology and Evidence based Relaxation Therapy at Nature Care College, Sydney.  She has a Bachelor of Arts (Psychology), Master of Science (Research) and PhD from the University of Sydney.  Judy is the director of Art & Science of Relaxation and is a well-known presenter of accredited seminars for health and medical professionals in Psychoneuroimmunology and Evidence Based Relaxation Therapy. She also teaches Relaxation Therapy classes to patients at Osana Medical Centres to reduce their pain, anxiety, trauma, depression, fatigue & chronic conditions and conducts relaxation classes from her private studio in Sydney.  In her career, she taught Psychology at the Australian Catholic University, Australian College of Physical Education and Methodist's Ladies College, and lectured in psychoneuroimmunology at the School of Medical Science, University of Sydney and Australian College of Applied Psychology. Judy also held a number of other positions as TAFE Lecturer and research coordinator.  She is the author and co-author of 18 publications on the topic of Psychoneuroimmunology, research-based benefits of Relaxation Therapy and chronic pain management and in her free time, Judy is a volunteer coordinator for North Sydney Persistent Pain Mental Health Network.

This online workshop will give you instant access to 6 sessions of video content, accessible via streaming on our website. PowerPoint slides are provided for download. You can view the course content in your own time, there is no time limit on access.
The duration of this workshop is 6 learning hours. Please refer to your organisation/association policies to confirm whether you are able to claim professional development points or hours for online training.
Participants are required to complete an online assessment with an 80% pass rate to receive a certificate of completion.