28 Oct

Borderline Personality Disorder: Management, Treatment and Communication Strategies

The core characteristics of Borderline Personality Disorder.
Specific treatment and management strategies.
Etiology and neuroscience in Borderline PD.
Specific communication approaches to engage clients and assist in therapeutic progress.
Comprehensive and integrative treatment techniques you can use in any setting, whether it is an organisation or a counselling room.
Clients with Borderline Personality Disorder (BPD) can present you with many challenges, and focusing on one treatment modality may not provide your clients with the therapeutic results they desperately need. Enrol in this comprehensive and practice-focused course and learn how to use a range of integrative and applied treatment strategies for treating borderline disorders. Combining aspects of DBT, CBT, Schema therapies and neurobiological stabilization, you will develop specific interventions that are effective and necessary throughout your involvement with the client.  Learn how to rapidly recognise diagnostic aspects of BPD, see the differences between BPD and other personality disorders, recognise BPD sub-types and respond to chronic suicidality.
You will learn how to recognise the common factors that lead to affective instability, and techniques to effectively validate clients, provide limit setting and apply strategies to achieve emotional control. You will participate in a multitude of interactive exercises that will leave you confident and will facilitate therapeutic progress.
By blending the most effective treatment techniques available for BPD into clear protocols, this course will show you how to maximise your chances for helping your clients achieve lasting change in the course of brief involvement.  You will learn how to quickly progress by using the SET communication strategy repeatedly, how to validate at six levels, how to respond to the subconscious schemas rather than use a "knee-jerk" response to the challenging patterns, and finally, you will learn how to manage chronic suicidality.
Don't miss this valuable workshop – overcome treatment challenges and get unstuck with your clients with Borderline Personality Disorder today!
See what people say:
"I feel I gained a very clear and accurate understanding of BPD and the challenges that underpin responses to stress and risks.  Really enjoyed the day! Most informative, great range of useful strategies." (Access worker)
"An excellent workshop! I will use the frame more. Loved Hanna's lovely style and making things plain." (Therapist)
"Excellent! I will now provide stricter structure for my clients and will have better understanding of BPD needs" (Psychologist)
"Very insightful! (Social worker in MH Community Services)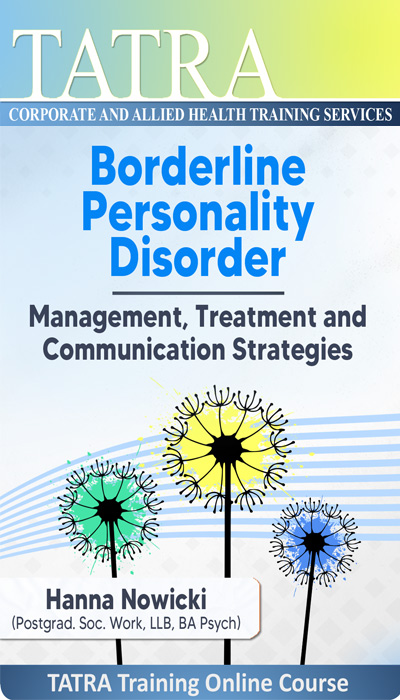 Refine skills for rapid assessment.
Identify additional BPD traits that have not been captured in DSM-5® diagnostic criteria.
Understand differential diagnosis and co-morbidity: Bipolar disorder, ADHD, substance abuse, Complex and chronic PTSD and other personality disorders.
Implement effective and empirically validated strategies for the treatment and management of BPD.
Explore common treatment errors and pitfalls.
Understand "splitting".
Learn to utilise the SET communication strategy effectively.
Learn 6 levels of validation.
Respond to subconscious beliefs that drive problematic behaviours.
Become confident when working with Schemas
Manage counter-transference issues that invariably arise during your involvement with the BPD client.
Summarize a number of adjunctive management strategies you can utilise if you are not a therapist but you want to assist in improving the BPD individuals' quality of life.
Learn how to manage chronic suicidality.
Understand how BPD can be lessened if prevention is implemented early.
Implement emotional and behavioural regulation strategies regardless whether you operate from a therapy room or an organisation.


This online workshop will give you instant access to 7 sessions of video content, accessible via streaming on our website, as well as downloadable supplemental notes and case studies. You can view the course content in your own time, there is no time limit on access.
The suggested duration of this workshop is 8 learning hours, including exercises. The running time of the video content in this course is 6 hours.
A certificate of completion will be generated upon finishing the course and completing a short multiple-choice assessment test. Please consult your professional organisation/association to confirm whether you are able to claim any CPD points/hours for this online workshop.