29 May

Grief Therapy: Clinical Tools to Assess and Treat Normative and Prolonged Grief Disorder

Posted at 13:37h

in

Grief

When your clients are devastated by loss, they're counting on you to guide them through their pain. But grief is unpredictable, often misunderstood, and leaves wounds that linger for years afterward.
Mental health and healthcare professionals are faced with the often misunderstood and misdiagnosed symptoms of uncomplicated and complicated grief. Formal education rarely, if ever, provides extensive enough training to accurately identify and treat those who are grieving. Often grieving clients present with other diagnoses because symptoms can mimic uncomplicated or complicated grief. The grieving process is often pathologized, or misdiagnosed, resulting in potential exacerbation of the presenting issues because inappropriate interventions are utilized. As a result, those who are grieving are often inadvertently disenfranchised by providers, which can make the professional support they sought to reconstruct their previously shattered identities and worldviews ineffective. It is essential to be versed in identifying grief related constructs that may underlie, or even cause, mental health difficulties.
This course aims to provide current information on the grieving process, clarify misconceptions of outdated theories, and differentiate between uncomplicated and complicated grief, and also examines the changes in conceptualization, differential diagnosing, treatment planning, and interventions used with grieving individuals. You will leave with an improved clinical skill set you will be able to  immediately use to identify and treat clients., and you will enhance your skills and will feel more prepared than ever before to walk alongside the grieving in a world overwhelmed by loss.
Outline:
DAY 1
Assessment of Grieving Clients:
Uncover Grief Intensity, Depression, Substance Use and Suicidal Ideation
Grief intensity scale
Hogan grief reaction checklist
Assessment to uncover trauma, depression, substance use and anxiety
QPR and S-SSRS to assess for suicidal ideation or substance use
Isolation, sleep and nutrition concerns for grieving clients
Assessment and Treatment of Persistent Complex Bereavement Disorder
How to diagnose using the DSM-5
Assessment resources
Complicated Grief Treatment Model
Meaning Reconstruction
Grief Therapy and Counseling in Action:
Clinical Tools and Treatment Approaches to Facilitate Healthy Grieving
Grief counseling vs. grief treatment – what's the difference?
CBT techniques for guilt, blame and other maladaptive cognitions following loss
Mindfulness interventions for anticipatory grief and anxiety symptoms
Narrative approaches to process grief by putting words to the pain
Exercises to help clients better face uncertainty
Creative tools to support emotional regulation and expression
Tools to manage regret and facilitate forgiveness and reconciliation
Alternative ways to honor deceased loved ones and find closure
How to make virtual sessions as effective as in-person ones
Non-Death and Abstract Losses:
How to Effectively Work with Clients Who've Experienced "Living Losses"
Abstract losses – how to work with loss of connection, routine, normalcy and identity
Divorce
Substance use
Natural disasters
Life-limiting and mental illness
Developmental disabilities
Military or incarceration
Symbolic Losses
DAY 2
 
The Traumatic Grief Treatment Toolkit:
Build Clients' Resiliency and Move Them Toward Post-Traumatic Growth
Assess for PTSD symptoms
Emotional regulation techniques for clients who've had a traumatic loss
DBT techniques to decrease avoidance and manage suicidal ideation
CBT coping skills for traumatic memories and rumination
Clinical strategies to reduce fear responses
How to work with the unique challenges of suicide survivors
Exercises to help clients overcome guilt and shame
Employing a strengths-based approach to build resiliency
The Clinician's Guide to Grief and Loss Groups:
How to Successfully Structure and Facilitate Grief Support or Treatment Groups
Differences between

Psychoeducational groups or therapeutic process groups
Peer or clinician led groups
Loss-specific or general grief groups
Open and closed groups

Participant screening
Keys to effective facilitation
Program evaluation
Grief Work with Clients of Diverse Race, Backgrounds, Cultures and Beliefs
How culture impacts length of mourning and continuing relationships with the deceased
Spiritual impacts on grief
How inequalities in race, gender, sexual orientation and age impact support of grief and loss
Personal assessment activity
Cultural competence vs. culturally and difference intentioned/aware practice
Cultural & difference-focused engagement ideas and strategies
Ethical Considerations in Grief Counseling and Treatment
Boundaries of professional competence
Research and treatment risks
Working with the terminally ill, minors, families and end-of-life decisions
Vicarious trauma, compassion, fatigue and self-care
Objectives:
Assess for trauma, depression, substance use and anxiety in grieving clients.
Utilize two assessment measures for gathering grief responses.
Distinguish how the experiences created by different types of loss impact assessment and treatment planning.
Evaluate contemporary models of bereavement as they relate to case conceptualization for grief therapy.
Assess the boundaries of professional competence in grief work and know when to refer out.
Investigate factors that can influence the grief process including the type of loss and support system.
Use the DSM-5 to diagnose/identify Prolonged Grief Disorder.
Employ emotional regulation techniques to help calm clients who've experienced a traumatic loss.
Implement a bereavement plan of care for identified Prolonged Grief Disorder.
Use CBT techniques to help bereaved clients manage guilt, blame and other maladaptive cognitions following loss.
Apply narrative approaches to help clients construct meaning following loss.
Utilize mindfulness interventions to reduce anxiety symptoms in clients with grief.
Evaluate the clinical implications of cultural beliefs surrounding mourning and continuing relationships with the deceased.
Utilize best practices to structure and facilitate grief support or treatment groups.
Develop strategies for self-care when working with grieving clients.
Analyze continuing attachment bonds and their relevance to clinical practice with bereaved clients across the lifespan.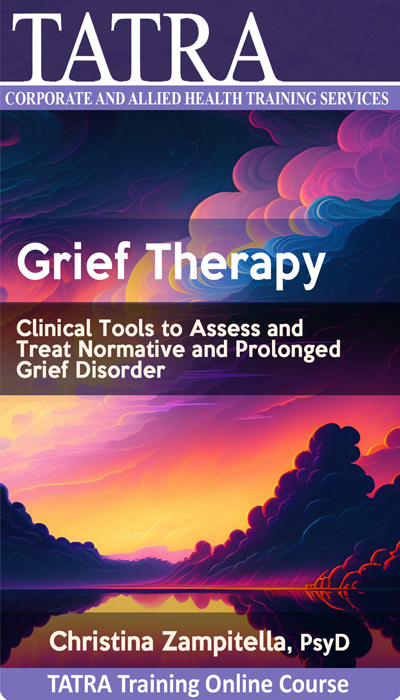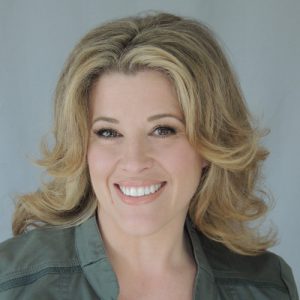 Christina Zampitella, PsyD, FT, is a licensed clinical psychologist and a Fellow of Thanatology through the Association for Death Education and Counseling (ADEC). She is the founder and owner of The Center for Grief and Trauma Therapy, co-owner and Director of Clinical Services at Integrative Psychology Group, and a professional speaker. She teaches in undergraduate and graduate level psychology programs for several universities, focusing her courses and publications on death, loss, grief, and trauma. She served as the chair for the Continuing Education Committee for the San Diego Psychological Association from 2007-2009 and the Delaware Psychological Association from 2018-1019. Dr. Zampitella specializes in death, loss, bereavement, integrative psychology, and nature-based therapy. She is the former resident psychologist on Fox 5 News in San Diego and often appeared on NBC News in California and Philadelphia. She has been featured in Elle magazine, BuzzFeed, Washington Post, and The Huffington Post.

This online workshop will give you instant access to 8 sessions of video content, accessible via streaming on our website. You can view the course content in your own time, there is no time limit on access.
 The duration of this course is 12 learning hours.
A certificate of completion will be generated upon finishing the course and completing a short assessment quiz. If the certificate is not showing, please confirm you have marked all sections as 'Complete'. Please consult your professional organisation/association to confirm whether you are able to claim any CPD points/hours for this online workshop.