02 Jan

Solution-focused Trauma Therapy
Bonus Offer
Purchase this course and receive a free bonus course by Dr Ben Furman valued at $215: Single Session Therapy  (5 Learning Hours)
Bonus course will be automatically added to your account.

This course is designed for counsellors and therapists who are looking to learn a different approach to helping clients who have experienced difficult life experiences, such as trauma. The approach that will be taught in this course is significantly different from most other therapeutic approaches to trauma, and is characterized by its brevity, lightness, and optimism.
Unlike many mainstream methods, this approach is not focused on the trauma itself, but rather on acknowledging and supporting the natural recovery process that we are all born with. The approach is based on the principles and practice of solution-focused therapy (SFT), and is designed to help clients identify and build on their strengths and resources in order to move forward and create positive change in their lives.
To get the most out of this course, it is recommended that participants already be familiar with SFT and its principles and practice. While it is not necessary to be formally trained as a solution-focused therapist, some prior exposure to these concepts will be helpful. If you have already completed a self-study course on the principles and practice of solution-focused therapy, you should have the necessary background knowledge to fully participate in this course.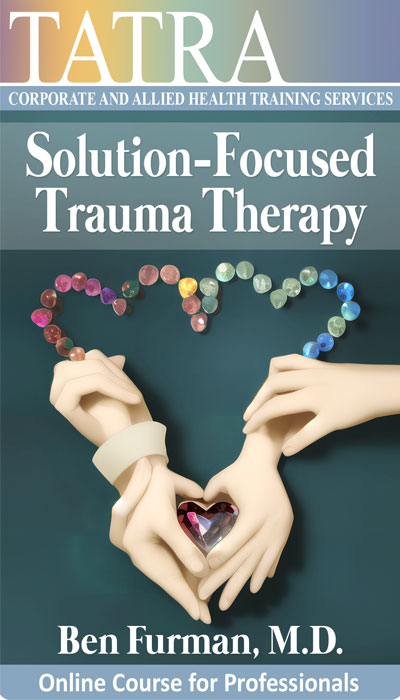 In section 1, Introduction
Common myths about trauma
The Tea-cup story
Alternatives to the word "trauma"
Social constructivism
In section 2, The solution-focused ear, (9 lessons) I familiarize you with specific solution-focused interviewing techniques that are especially suited for helping clients cope with, and recover from, difficult life experiences.
The solution-focused ear
Coping
Help from others
Helping others
Viewing recovery as a process
The end of suffering
Support from the future
In section 3, Give it a go, (1 lesson) I will give you a personal experience of a solution-focused interview that focuses on some painful past experience of your own. You will be able to have a dialogue with a chat-bot that I have programmed that will ask you solution-focused questions about your difficult experience.
In section 4, Applications, (4 lessons) I discuss a few specific trauma related issues including debriefing fresh trauma, helping clients get rid of flashbacks, and facilitating recovery from painful loss.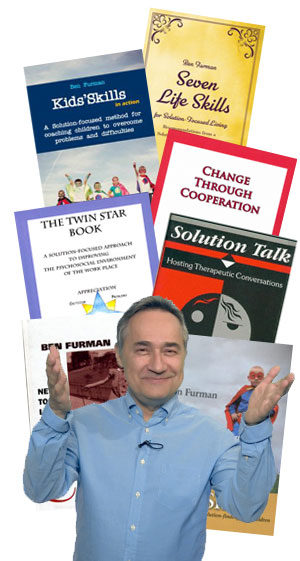 Dr Ben Furman is an internationally recognised psychiatrist, trainer and therapist. He is renowned internationally as a trainer of solution-focused therapy and an active innovator of solution-focused methods and tool for therapists, leaders and staff of organizations. Together with Tapani Ahola , Ben founded the Helsinki Brief Therapy Institute where Ben works as a trainer of solution-focused therapy, coaching and organizational development. Ben has also been an active media personality. The institute provides training in solution-focused therapy and coaching.
 
Ben studied psychotherapy during his specialization and was accredited by the Finnish ministry of health as a psychotherapist in 1995 and trainer of psychotherapy in 2007. For a number of years, he acted as the founding editor of the Finnish Journal of Family Therapy published by the Finnish Association of Mental Health. He used to host his own TV-program (200 episodes) and has also run his own call-in radio program, both on Finnish National Broadcasting Company YLE.
 
He is the author of twenty books, many of which have been translated to a number of foreign languages. Some of his books are Solution Talk: Hosting Therapeutic Conversations, Never Too Late to Have a Happy Childhood: Turning Your Past Traumas to Resources for Your Future, and Kids' Skills in Action: A Solution-focused Method for Coaching Children to Overcome Difficulties.
 
He's known as a very entertaining presenter with great knowledge of the clinical applications of Solution-focused Therapy.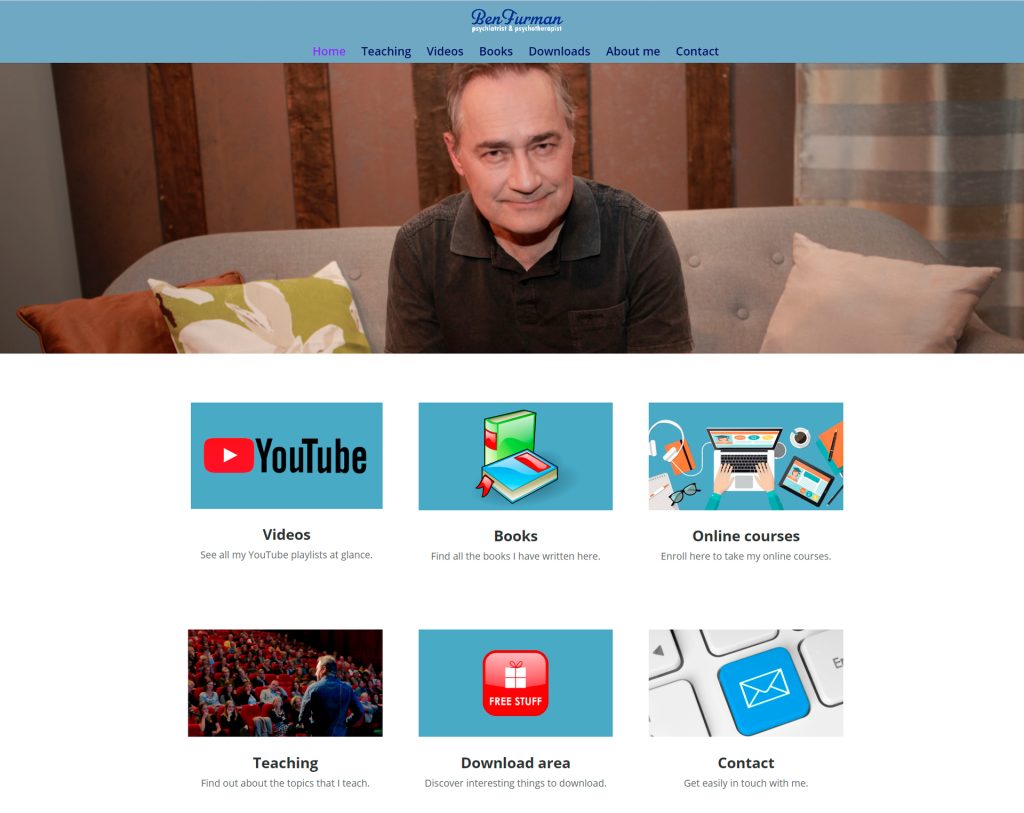 This online training program will give you instant access to video and other content, accessible via streaming on our website. You can view the course content in your own time, there is no time limit on access.
The duration of this course is 4 learning hours (total video running time approx 2 hours). You can view the course content at your own pace, there is no time limit on access.
Please click the "Mark Complete" button on each module as you progress through the course. A certificate of completion will be generated upon finishing the course and completing a short multiple-choice evaluation quiz. Please consult your professional organisation/association to confirm whether you are able to claim any CPD points/hours for this online training program.